It appears that even "one of the Original Neocons" Victor Davis Hanson is having second thoughts about Biden's Ukrainian World War III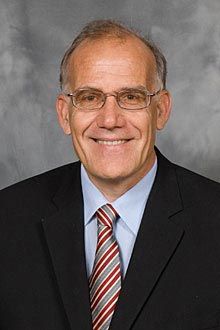 Affiliations
Hoover Institution:

Fellow
I came to support neocon approaches first in the wars against the Taliban and Saddam, largely because I saw little alternative."[28] - Victor Davis Hanson
It appears that even "one of the Original Neocons" Victor Davis Hanson is having second thoughts about Joe Biden's Ukrainian World War III:
The once-pacifist American Left has embraced Ukraine as its "I told you so" proof that Putin was really the monster that it could not find guilty in its various Russian collusion concoctions and laptop disinformation hoaxes...
... China believes it can be the real winner of the war. Its rivals and enemies are weakened the longer the war continues. The West is depleting its arsenals. It is tiring of the cost. Rival Russia is bleeding, selling Beijing cheap oil and begging for its weapons.
Neither Europe nor America, China believes, will want to repeat another proxy war—say, one over Taiwan—against a nuclear power with far more leverage over the West and far greater wherewithal on the battlefield...
... India, like Turkey, likes newfound cheap Russian oil. It feels a proximate Russia and China are better entertained than a distant and provocative, but increasingly internally divided and weakened, United States.
Turkey is suddenly booming with cheap oil and a big arms appetite from Russia. It feels rich and illiberal China and Russia both fear Turkey's export of Islamism and seem better allies than the loud-talking but declining West.
North Korea sees only positives in Western distraction in Ukraine. It counts that its nuclear recklessness is seen as a valuable irritant by both Russia and China.
The longer this preview war goes on, the surer will follow the nightmarish main attraction. [https://www.theepochtimes.com/the-ukraine-wars-prelude-to-what_5080746.html?utm_source=Morningbrief&src_src=Morningbrief&utm_campaign=mb-2023-02-25&src_cmp=mb-2023-02-25&utm_medium=email&est=zW6rLEr5R43FfxaXSx6sNZJOPfJcXRPnI%2FATac%2BvnPul8Y3pfBtGVc0QbmGG]
Pray an Our Father now for reparation for the sins committed because of Francis's Amoris Laetitia.

Pray an Our Father now for the restoration of the Church as well as the Triumph of the Kingdom of the Sacred Heart and the Immaculate Heart of Mary.
Stop for a moment of silence, ask Jesus Christ what He wants you to do now and next. In this silence remember God, Father, Son and Holy Ghost - Three Divine Persons yet One God, has an ordered universe where you can know truth and falsehood as well as never forget that He wants you to have eternal happiness with Him as his son or daughter by grace. Make this a practice. By doing this you are doing more good than reading anything here or anywhere else on the Internet.
Francis Notes:
- Doctor of the Church St. Francis de Sales totally confirmed beyond any doubt the possibility of a heretical pope and what must be done by the Church in such a situation:

"[T]he Pope... WHEN he is EXPLICITLY a heretic, he falls ipso facto from his dignity and out of the Church, and the Church MUST either deprive him, or, as some say, declare him deprived, of his Apostolic See."
(The Catholic Controversy, by St. Francis de Sales, Pages 305-306)

Saint Robert Bellarmine, also, said "the Pope heretic is not deposed ipso facto, but must be declared deposed by the Church."
[https://archive.org/stream/SilveiraImplicationsOfNewMissaeAndHereticPopes/Silveira%20Implications%20of%20New%20Missae%20and%20Heretic%20Popes_djvu.txt]
- "If Francis is a Heretic, What should Canonically happen to him?": http://www.thecatholicmonitor.com/2020/12/if-francis-is-heretic-what-should.html
- "Could Francis be a Antipope even though the Majority of Cardinals claim he is Pope?": http://www.thecatholicmonitor.com/2019/03/could-francis-be-antipope-even-though.html
- If Francis betrays Benedict XVI & the"Roman Rite Communities" like he betrayed the Chinese Catholics we must respond like St. Athanasius, the Saintly English Bishop Robert Grosseteste & "Eminent Canonists and Theologians" by "Resist[ing]" him: https://www.thecatholicmonitor.com/2021/12/if-francis-betrays-benedict-xvi.html
- LifeSiteNews, "Confusion explodes as Pope Francis throws magisterial weight behind communion for adulterers," December 4, 2017:

The AAS guidelines explicitly allows "sexually active adulterous couples facing 'complex circumstances' to 'access the sacraments of Reconciliation and the Eucharist.'"

- On February 2018, in Rorate Caeli, Catholic theologian Dr. John Lamont:

"The AAS statement... establishes that Pope Francis in Amoris Laetitia has affirmed propositions that are heretical in the strict sense."

- On December 2, 2017, Bishop Rene Gracida:

"Francis' heterodoxy is now official. He has published his letter to the Argentina bishops in Acta Apostlica Series making those letters magisterial documents."

Pray an Our Father now for the restoration of the Church by the bishops by the grace of God.
Election Notes:
- Intel Cryptanalyst-Mathematician on Biden Steal: "212Million Registered Voters & 66.2% Voting,140.344 M Voted...Trump got 74 M, that leaves only 66.344 M for Biden" [http://catholicmonitor.blogspot.com/2020/12/intel-cryptanalyst-mathematician-on.html?m=1]
- Will US be Venezuela?: Ex-CIA Official told Epoch Times "Chávez started to Focus on [Smartmatic] Voting Machines to Ensure Victory as early as 2003": http://catholicmonitor.blogspot.com/2020/12/will-us-be-venezuela-ex-cia-official.html
Pray an Our Father now for the grace to know God's Will and to do it.
Pray an Our Father now for America.
Pray an Our Father now for the restoration of the Church as well as the Triumph of the Kingdom of the Sacred Heart and the Immaculate Heart of Mary.