Might Feser like Taylor Marshall reconsider his idea that it's an Infallible Impossibility that Francis could be an Antipope & be not afraid to ask for an Investigation of the 2013 Conclave?

- "To call Benevacantism half-baked would be too generous. It is a complete theological mess... it is reality. And the first step in dealing with some reality you don't like is to face it, rather than retreating into fantasy." - Edward Feser [http://edwardfeser.blogspot.com/2022/04/benevacantism-is-scandalous-and.html]
- How incredibly, incredibly sad. And chilling. It is simply horrible to watch other people self-harm like this, much less the damage being done to souls, and to Our Lord and His Church, already under such unspeakable attack. I think this DEFINITELY warrants a call to priests to offer the Holy and August Sacrifice of the Mass for Dr. Taylor Marshall.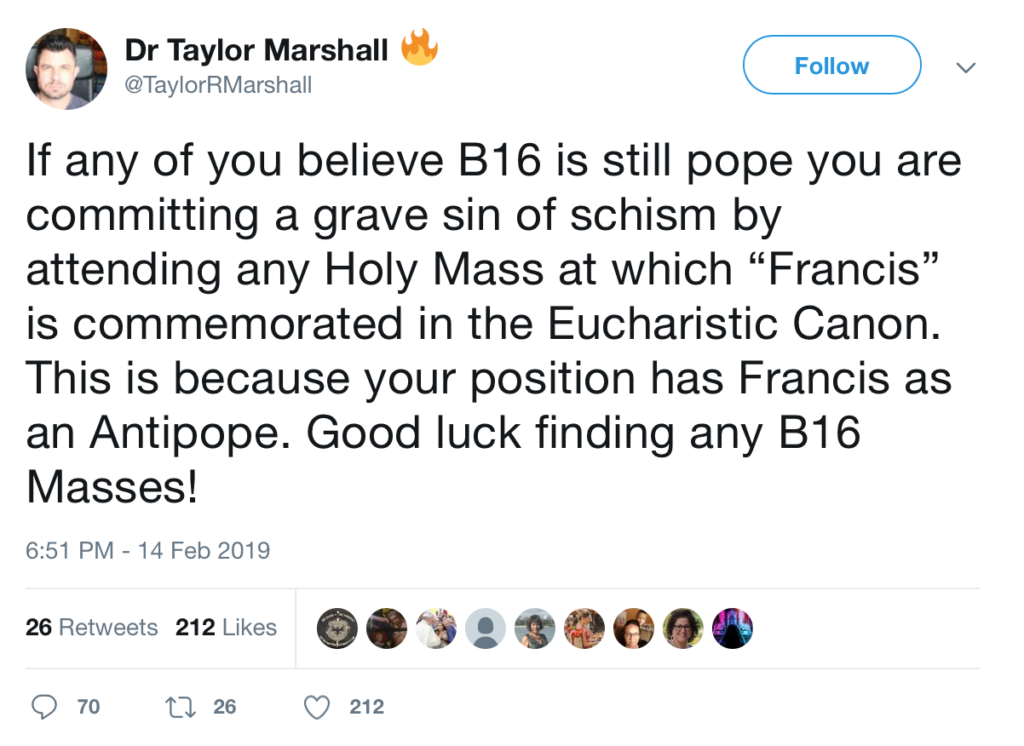 Now I want you to just stop and think about this. Do you HONESTLY believe that ANYONE telling you to STOP GOING TO MASS can possibly, possibly be of the Holy Ghost? Do you honestly believe that Jesus Christ actively wills you to break the THIRD COMMANDMENT?
Not that anyone is excommunicated, but purely to drive home the point of how wicked and uncharitable the Tweet of Dr. Marshall's is, did you know that even people who have been formally excommunicated are still 100% bound by the Third Commandment to assist at Mass and fulfill their Sunday Obligation and all Holy Days of Obligation? If a formally excommunicated person does not hear Mass on Sunday, that is another mortal sin added to their tally. An excommunicated cannot receive Holy Communion, obviously, but he is still obliged, and Holy Mother Church earnestly desires that he COME TO MASS precisely because the Mass is the intersection of Heaven and Earth, with infinite quantities of grace available to every soul there present. - Ann Barnhardt [https://www.barnhardt.biz/2019/02/16/by-their-fruits-you-will-know-them-dr-taylor-marshall-sadly-is-telling-people-who-believe-pope-benedict-to-be-the-one-and-only-living-pope-to-cease-attending-the-holy-sacrifice-of-calvary/]

Thomist scholar Dr. Taylor Marshall in his popular YouTube podcast asked if some votes in the 2013 Francis Conclave were "purchased" by the Obama-Biden team. Last year, the Thomist scholar in his Biden vs. Catholic Bishops: Communion Wars show made a statement apparently calling into question the legitimacy of Francis's papacy:
"Joe Biden and Barack Obama purchased the USCCB, the USCCB is the United States Conference of Catholic Bishops. And I think it's worth investigating and studying in this infiltration of whether they purchased votes in the 2013 [Francis] Conclave." ["Biden Vs Catholic Bishops: Communion Wars - Biden doubts Bishops will ban him" on YouTube, 3:27-3:47: https://youtu.be/cr6YLMtIGRQ]
In 2020, Marshall in his YouTube podcast said that Francis collaborator predator ex-Cardinal Theodore "McCarrick... perhaps... [did] something uncanonical in regards to the election of Bergoglio":

"We also learned that McCarrick who is a friend of the St. Gallen mafia. In a Villanova video he talked about when Benedict resigned that a certain distinguished Italian gentleman spoke about getting Bergoglio elected. It almost sounds like a campaign. McCarrick actually confessed that this happened before all this came out about McCarrick. So, we realize that McCarrick was perhaps doing something uncanonical in regards to the election of Bergoglio who goes on to be elected as Pope Francis."
(Watch "Trump Should Investigate McCarrick & His Creepy Bishop Network" on YouTube, July 19, 2020, 38:35-39:08: https://youtu.be/8H99rRDjjEc)

Catholic pundit Patrick Coffin on his YouTube show asked Cardinal Raymond Burke:

"I was wondering rather if those rules [of the 2013 conclave that elected Francis] were violated and rather or not the whole election of Francis may be invalid. Is there any foundation for that speculation?"

Cardinal Burke answered:

"The only grounds that could be used for calling into question the validity of the election would be were the election organized by a campaign beforehand which is strictly forbidden and that would be difficult to demonstrate..."

"... If these persons [the St. Gallen Mafia of liberal cardinals] engaged in a active campaign first to undermined Pope Benedict XVI and at the same time to engineer the election of someone [Francis] then that could be a argument. I don't think I have the facts, and there have to be facts, to prove that. That's all I have to say about that."
(Patrick Coffin show, "141: Dubia Cardinal Goes on the Record - Raymond Cardinal Burke (Free Version)," Premiered 13 hours ago, 19:55 to 21:46)

Coffin about a minute later said "Bishop Henry Rene Gracida... has written a Open Letter to the cardinals saying only a imperfect synod could be called and resolve this."

According to Cardinal Burke proving that the St. Gallen Mafia "undermined Pope Benedict XVI and at the same time engineer[ed] the election of someone [Francis]" would be "very difficult to demonstrate," but possible if a real investigation for evidence took place it could possibly be proven that Francis is an antipope.

Bishop Rene Gracida has convincingly demonstrated that there is valid evidence that Pope John Paul II's conclave constitution "Universi Dominici Gregis" which "prescribe[d].. [the] method for the election of his successor(s)" was violated and must be investigated by Cardinals. If, after the investigation, Francis is found to be an antipope then a new pope would have to be elected after Benedict XVI's resignation is investigated to see if his resignation was valid.

Renowned Catholic historian Warren Carroll explicitly says that what matters in a valid papal election is not how many cardinals claim a person is the pope. What is essential for determining if someone is pope or antipope is the "election procedures... [as] governed by the prescription of the last Pope":

"Papal election procedures are governed by the prescription of the last Pope who provided for them (that is, any Pope can change them, but they remain in effect until they are changed by a duly elected Pope)."

"During the first thousand years of the history of the Papacy the electors were the clergy of Rome (priests and deacons); during the second thousand years we have had the College of Cardinals."

"But each Pope, having unlimited sovereign power as head of the Church, can prescribe any method for the election of his successor(s) that he chooses. These methods must then be followed in the next election after the death of the Pope who prescribed it, and thereafter until they are changed. A Papal claimant not following these methods is also an Antipope."

"Since Antipopes by definition base their claims on defiance of proper Church authority, all have been harmful to the Church, though a few have later reformed after giving up their claims."
[http://www.ewtn.com/library/homelibr/antipope.txt]

Remember what renowned Catholic historian Carroll said:

"A Papal claimant not following these methods [of the Pope John Paul II's conclave constitution] is also an Antipope."
"There is no reason for Cardinal Burke not to call for an Imperfect Council," wrote Catholic Monitor commenter Ana Milan:

[http://catholicmonitor.blogspot.com/2020/07/dr-taylor-marshall-mccarrick-perhaps.html?m=1]
Stop for a moment of silence, ask Jesus Christ what He want you to do now and next. In this silence remember God, Father, Son and Holy Ghost - Three Divine Persons yet One God, has an ordered universe where you can know truth and falsehood as well as never forget that He wants you to have eternal happiness with Him as his son or daughter by grace. Make this a practice. By doing this you are doing more good than reading anything here or anywhere else on the Internet.
Francis Notes:
- Doctor of the Church St. Francis de Sales totally confirmed beyond any doubt the possibility of a heretical pope and what must be done by the Church in such a situation:

"[T]he Pope... WHEN he is EXPLICITLY a heretic, he falls ipso facto from his dignity and out of the Church, and the Church MUST either deprive him, or, as some say, declare him deprived, of his Apostolic See."
(The Catholic Controversy, by St. Francis de Sales, Pages 305-306)

Saint Robert Bellarmine, also, said "the Pope heretic is not deposed ipso facto, but must be declared deposed by the Church."
[https://archive.org/stream/SilveiraImplicationsOfNewMissaeAndHereticPopes/Silveira%20Implications%20of%20New%20Missae%20and%20Heretic%20Popes_djvu.txt]
- "If Francis is a Heretic, What should Canonically happen to him?": http://www.thecatholicmonitor.com/2020/12/if-francis-is-heretic-what-should.html
- "Could Francis be a Antipope even though the Majority of Cardinals claim he is Pope?": http://www.thecatholicmonitor.com/2019/03/could-francis-be-antipope-even-though.html
- LifeSiteNews, "Confusion explodes as Pope Francis throws magisterial weight behind communion for adulterers," December 4, 2017:

The AAS guidelines explicitly allows "sexually active adulterous couples facing 'complex circumstances' to 'access the sacraments of Reconciliation and the Eucharist.'"

- On February 2018, in Rorate Caeli, Catholic theologian Dr. John Lamont:

"The AAS statement... establishes that Pope Francis in Amoris Laetitia has affirmed propositions that are heretical in the strict sense."

- On December 2, 2017, Bishop Rene Gracida:

"Francis' heterodoxy is now official. He has published his letter to the Argentina bishops in Acta Apostlica Series making those letters magisterial documents."

Pray an Our Father now for the restoration of the Church by the bishops by the grace of God.
Election Notes:
- Intel Cryptanalyst-Mathematician on Biden Steal: "212Million Registered Voters & 66.2% Voting,140.344 M Voted...Trump got 74 M, that leaves only 66.344 M for Biden" [http://catholicmonitor.blogspot.com/2020/12/intel-cryptanalyst-mathematician-on.html?m=1]
- Will US be Venezuela?: Ex-CIA Official told Epoch Times "Chávez started to Focus on [Smartmatic] Voting Machines to Ensure Victory as early as 2003": http://catholicmonitor.blogspot.com/2020/12/will-us-be-venezuela-ex-cia-official.html