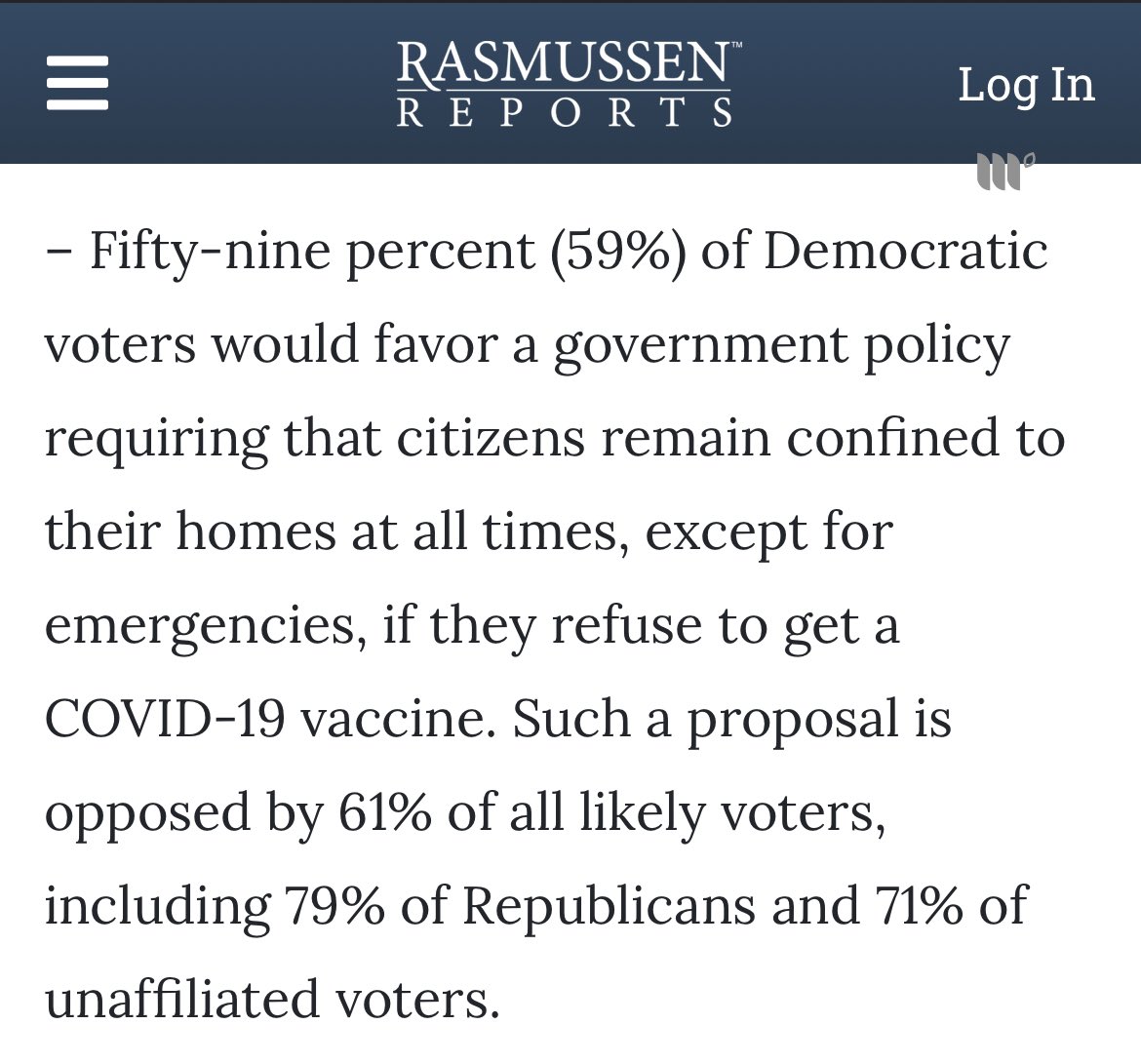 Many avoid thinking of death because they fear it. But the way to learn not to fear it is to think of it and constantly prepare for it. A holy life makes it easier to think of death, and the thought of death contributes to a holy life....If you had to die today or tomorrow, would you be prepared to face your judge?...Profit by the days left to you...be prepared to [die]...and seriously consider that death is the moment that decides a whole eternity...Remember too that it is difficult for people to make acts of these virtues at the moment of death if they have not acquired the habit of doing so during life. - Book 3 of the Imitation of Mary
Rasmussen: Half of Democrat voters want you to be either DeathVaxxed or ruined and imprisoned. [How many of them are bishops?]... Canon 212

According to the above poll, it appears that over half of Democrats have become Hitler-like.
How did this happen?
They apparently are not just Hitler-like in wanting to ruin and imprison innocent people, but like Adolf Hitler they are afraid of death. According to the book "The Nazi and the Psychiatrist," the World War II psychiatrist Douglas Kelly reported Hitler during the war and towards the end of the war was obsessed with possibly having cancer so he received "shots of vitamins and glucose to stave off the imaginary illness. Hitler... fear[ed]... death." ("The Nazi and the Psychiatrist," page 160-161)

Bruce Pardy, a professor of law at Queen's University in Canada, explained they may be like the Nazi leader because the "COVIDians... feel threatened by the end of the [COVID] cause":
The panic-demic must finish or we will be doing this forever.
For the past 23 months, the real pandemic has not been COVID but anxiety. According to Mattias Desmet, professor of clinical psychology at Ghent University in Belgium, the COVID crisis is a product of "mass formation," a collective psychosis that can occur when a significant portion of the population develops an irrational fixation on an external cause. Mass formation is most likely to occur, Desmet says, when a critical mass of people suffers from a lack of social bonds, a lack of meaning in their lives, free-floating anxiety that has no specific source or cause, and free-floating frustration and aggression not directed at a particular target.
The virus may have made people anxious, but it was more the other way around. Those already afraid, disconnected, and adrift in their lives were more susceptible to media messaging that portrayed COVID as a bigger threat than it really was. The virus offered an external phenomenon on which to focus their distress. It gave purpose to fear. Masks, lockdowns, social distancing, and vaccine mandates provided the illusion of control and a justification for imposing the burden of their anxiety on others. For some, hiding behind masks, staying home, working online, and being isolated gave respite from social interactions that they found uncomfortable anyway.
COVID is a righteous platform from which to rage against non-conformists. COVID cranks cheer when small businesses are shut, workers dismissed, university students ousted, and schools closed, all to assuage their anxiety. The country was never "in this together." As Aldous Huxley wrote, "The surest way to work up a crusade in favor of some good cause is to promise people they will have a chance of maltreating someone. To be able to destroy with good conscience, to be able to behave badly and call your bad behavior 'righteous indignation' — this is the height of psychological luxury, the most delicious of moral treats."
COVIDians who feel threatened by the end of the cause for which they have lived these past two years will clamour for more and harsher restrictions. In Canada, the game is still on. Quebec imposed new curfews. Ontario throttled down on widespread testing but then lurched back into partial lockdown and closed its schools again. Booster campaigns are in full swing and "the pandemic of the unvaccinated" rhetoric continues. Prime Minister Justin Trudeau even suggested during last fall's election campaign that the unvaxxed are racists and misogynists who should not be tolerated. [https://www.theepochtimes.com/its-time-to-drop-the-hysteria-and-learn-to-live-with-covid_4199776.html?slsuccess=1]

Finally, has the COVID "panic-demic" proven that there are very few "disciples of Christ" in the Catholic Church other than Traditionalists?
It appears that there are many more Traditionalist priests than conservatives or liberal priests giving the sacraments even if they believe the media panic propaganda about the so-called Black Plague COVID.

They are the true witnesses of Easter and Jesus Christ's resurrection in that they "despise death" as St. Athanasius despised it.

Athanasius tells us the meaning of Easter in his great book "On the Incarnation":

"All the disciples of Christ despise death; they take the offensive against it and, instead of fearing it, by the sign of the cross and by faith in Christ trample on it as on something dead... all those who believe in Christ tread it underfoot as nothing, and prefer to die rather than to deny their faith in Christ, knowing full well that when they die they do not perish, but live indeed, and become incorruptible through the resurrection... There is proof of this too; for men who, before they believe in Christ, think death horrible and are afraid of it, once they are converted despise it so completely that they go eagerly to meet it, and themselves become witnesses of the Savior's resurrection from it. Even children hasten thus to die."
Pray an Our Father now for reparation for the sins committed because of Francis's Amoris Laetitia.