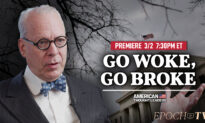 PREMIERING NOW: Jeffrey Tucker: $6 Trillion Created Unprecedented Inflation, All to Feed the 'Lockdown Machine'
Scholar Jeffrey A. Tucker who served as Editorial Director for the American Institute for Economic Research from 2017 to 2021, and is the founder and president of the Brownstone Institute states that the "lockdown machine" has "caused an economic disaster":
I sit down with Jeffrey Tucker, senior economics columnist for The Epoch Times and founder and president of The Brownstone Institute.
Tucker says labor supply problems are approaching catastrophic levels with historically low worker-to-population ratios, despite what the Biden administration says.
"We just lost millions of workers. They just disappeared," says Tucker. "Savings rates are rock bottom, credit cards super high, people are taking on second and third jobs, and Washington's calling this 'job creation'?"
Tucker and I discuss how pandemic mitigation measures made no measurable difference in health outcomes and caused an economic disaster, in which America's institutional systems have now become a closed world of industrial privilege.
"The settled ideological systems of 2019 and the previous 50 years don't really serve as very good prisms to understand the present world," Tucker says.
We also discuss the Federal Reserve, interest rates, the labor market, and the incentives driving the long-term impacts of COVID interventions.
"The slogan 'Go woke, go broke' is really coming to life," says Tucker. [https://www.theepochtimes.com/jeffrey-tucker-6-trillion-created-unprecedented-inflation-all-to-feed-the-lockdown-machine_5087315.html?utm_source=Morningbrief&src_src=Morningbrief&utm_campaign=mb-2023-03-03&src_cmp=mb-2023-03-03&utm_medium=email&est=fuN6Y0A5HwzSoBlTUhC95TjJ0ky%2BafjlUC2C2uBwOqvhTaHlCVVB386zUFyQ]
Pray an Our Father now for reparation for the sins committed because of Francis's Amoris Laetitia.

Pray an Our Father now for the restoration of the Church as well as the Triumph of the Kingdom of the Sacred Heart and the Immaculate Heart of Mary.
Stop for a moment of silence, ask Jesus Christ what He wants you to do now and next. In this silence remember God, Father, Son and Holy Ghost - Three Divine Persons yet One God, has an ordered universe where you can know truth and falsehood as well as never forget that He wants you to have eternal happiness with Him as his son or daughter by grace. Make this a practice. By doing this you are doing more good than reading anything here or anywhere else on the Internet.
Francis Notes:
- Doctor of the Church St. Francis de Sales totally confirmed beyond any doubt the possibility of a heretical pope and what must be done by the Church in such a situation:

"[T]he Pope... WHEN he is EXPLICITLY a heretic, he falls ipso facto from his dignity and out of the Church, and the Church MUST either deprive him, or, as some say, declare him deprived, of his Apostolic See."
(The Catholic Controversy, by St. Francis de Sales, Pages 305-306)

Saint Robert Bellarmine, also, said "the Pope heretic is not deposed ipso facto, but must be declared deposed by the Church."
[https://archive.org/stream/SilveiraImplicationsOfNewMissaeAndHereticPopes/Silveira%20Implications%20of%20New%20Missae%20and%20Heretic%20Popes_djvu.txt]
- "If Francis is a Heretic, What should Canonically happen to him?": http://www.thecatholicmonitor.com/2020/12/if-francis-is-heretic-what-should.html
- "Could Francis be an Antipope even though the Majority of Cardinals claim he is Pope?": http://www.thecatholicmonitor.com/2019/03/could-francis-be-antipope-even-though.html
- LifeSiteNews, "Confusion explodes as Pope Francis throws magisterial weight behind communion for adulterers," December 4, 2017:

The AAS guidelines explicitly allows "sexually active adulterous couples facing 'complex circumstances' to 'access the sacraments of Reconciliation and the Eucharist.'"

- On February 2018, in Rorate Caeli, Catholic theologian Dr. John Lamont:

"The AAS statement... establishes that Pope Francis in Amoris Laetitia has affirmed propositions that are heretical in the strict sense."

- On December 2, 2017, Bishop Rene Gracida:

"Francis' heterodoxy is now official. He has published his letter to the Argentina bishops in Acta Apostlica Series making those letters magisterial documents."

Pray an Our Father now for the restoration of the Church by the bishops by the grace of God.
Election Notes:
- Intel Cryptanalyst-Mathematician on Biden Steal: "212Million Registered Voters & 66.2% Voting,140.344 M Voted...Trump got 74 M, that leaves only 66.344 M for Biden" [http://catholicmonitor.blogspot.com/2020/12/intel-cryptanalyst-mathematician-on.html?m=1]
- Will US be Venezuela?: Ex-CIA Official told Epoch Times "Chávez started to Focus on [Smartmatic] Voting Machines to Ensure Victory as early as 2003": http://catholicmonitor.blogspot.com/2020/12/will-us-be-venezuela-ex-cia-official.html
Pray an Our Father now for the grace to know God's Will and to do it.
Pray an Our Father now for America.
Pray an Our Father now for the restoration of the Church as well as the Triumph of the Kingdom of the Sacred Heart and the Immaculate Heart of Mary.