"The [Obama/Biden Team] Tyrants started with the Plandemic as cover for an unprecedented election fraud campaign... then they shifted smoothly from Covid to Ukraine"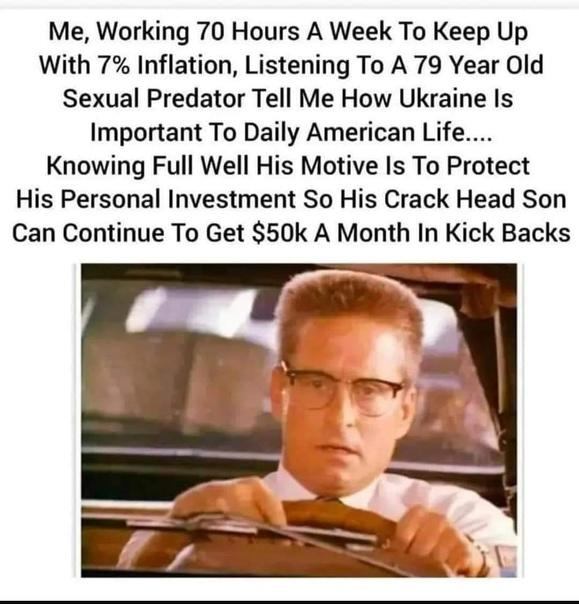 Constitutional lawyer Scott Lively thinks that asked "How do the agents of tyranny win in a democratic society?:
I was once a useful idiot on neo-con war policy but intense persecution by the LGBTs cured me of my fear of bucking propaganda narratives and let me see behind the curtain of the elites. There is no shame in being a "useful idiot" on an issue unless you choose to remain one after learning the truth.
How do the agents of tyranny win in a democratic society? They convince a majority of the voters to voluntarily choose the path to slavery (and ensure that enough dead people vote to guarantee a "majority" whenever it's close). The process always requires substantial control of public information by the tyrants to steer public opinion, and usually involves, as a motivator, either a great existential social crisis or a war against great evil.
We Americans have been subjected to both motivators, back to back. The tyrants started with the Plandemic as cover for an unprecedented election fraud campaign to wrest the White House away from President Trump (and roll back his accomplishments), and then they shifted smoothly from Covid to Ukraine.
In that process, the percentage of "useful idiots" in the population – meaning those who accept the propaganda narratives and side with the tyrants against their own interests – grew exponentially. Many of the same people who opposed the tyrants on Covid tyranny let themselves be suckered into joining these same puppet-masters against a new threat: Vladimir Putin and the Russians.
"This is different," the newly captivated crowd reasons, "because we already agree that Putin and Russia represent great evil." They don't remember that the elites' one-sided anti-Russian narrative long-predates the Plandemic, going back to the start of Cold War II in 2013. That's what makes useful idiots easy to dupe – they lack historical perspective and tend to follow the path of social trends, even when they nominally oppose those trends. This is why the "conservative" movement has always moved continually leftward about three steps behind the "progressives:" a phenomenon exemplified by present attitudes favoring the "progressive" social priority of "gay marriage," even by many who still (for now) vigorously fight "transgenderism."
Only a useful idiot would fail to see that "gay marriage" and "transgenderism" are the exact SAME AGENDA wearing different clothes.
Only a useful idiot would fail to question anti-Russian war propaganda when there has been ZERO public debate on its veracity, combined with unprecedented censorship of dissenting voices – far beyond what they did with Covid and election fraud. Especially when the strongest evidence steering public opinion on Russia and Ukraine comes from the enemy-of-the-people TV networks – the top global masters of manipulation! As an antidote I suggest this article which I have dubbed "
The Ivermectin of Analyses on Ukraine
." and its
sequel
.
What defines a "useful idiot?" It's more than simply working against your own interests, it is working FOR the elites in the pursuit of THEIR agenda. And what, ultimately, is their agenda? It us the enslavement of mankind: the Satanic agenda first seen under Nimrod and active in the world ever since. Another category of useful idiots may be triggered by this – those who reject or compromise Biblical truth in favor of the materialist counterfeit worldview of the elites. The first tenet of Marxism has always been Atheism, enforced by mockery. Embarrassment among some Christians about spiritual truths like the existence and work of Satan is a poisonous fruit of that mockery. Worse, many self-declared "non-religious" people are simply cowards who choose "agnosticism" to avoid ridicule. Both groups serve the elites agenda through passivity. [Scott Lively's Mission Dispatch, May 1, 2022,Observations and Action on Current Events, History and Theology.Photo above is at Tel Gezer archaeological site looking west toward Jaffa, Israel.Subscribe HERE. Contact/Comment HERE.}
Pray an Our Father now for reparation for the sins committed because of Francis's Amoris Laetitia.