Newsweek: #MeToo TIME's Person of the Year "Posts Alleged Email From Gavin Newsom's Wife After Governor Disputes Claims" of "trying to Silence her about Harvey Weinstein"
Today, Newsweek reported that #MeToo named TIME's Person of the Year, Rose McGowan, "Posts Alleged Email From Gavin Newsom's Wife After Governor Disputes Claims" of "trying to silence her about Harvey Weinstein:
[Liberal feminist] Rose McGowan has publicly endorsed Larry Elder with just days to go before the California gubernatorial recall election.
While announcing she is no longer a "Hollywood democrat" the actress also accused Gov. Gavin Newson's wife—Jennifer Siebel Newsom—of trying to silence her about Harvey Weinstein.
[...]
McGowan said Siebel Newsom reached out to her in 2017, just months before The New York Times published the explosive report detailing decades of sexual harassment accusations against the disgraced Hollywood producer.
She says Siebel Newsom contacted her on behalf of David Boies, a lawyer for Weinstein.
"So this woman, I don't know, some blonde lady name with the last name of the Newsom, cold-calls me, and was like, 'David Boies wants to know what it would take to make you happy,'" McGowan told Dave Rubin on The Rubin Report.
As part of the lengthy Twitter thread, McGowan shared what she claims is the email from Siebel Newsom.
The alleged email has been retyped onto an orange background with some names removed. [https://www.newsweek.com/rose-mcgowan-posts-alleged-email-gavin-newsom-wife-governor-disputes-claims-weinstein-1628364]
🧵The Newsom Weinstein Connection 🧵 PART 4 - After Weinstein was exposed publicly, Jennifer Siebel Newsom got into a Weinstein victims only group. In the email she admits to having made the phone call to Rose but changes 'happy' to 'heal'. Can you spot the manipulation? pic.twitter.com/HqCQC7J2qn
— Rose✨McGowan (@rosemcgowan) September 12, 2021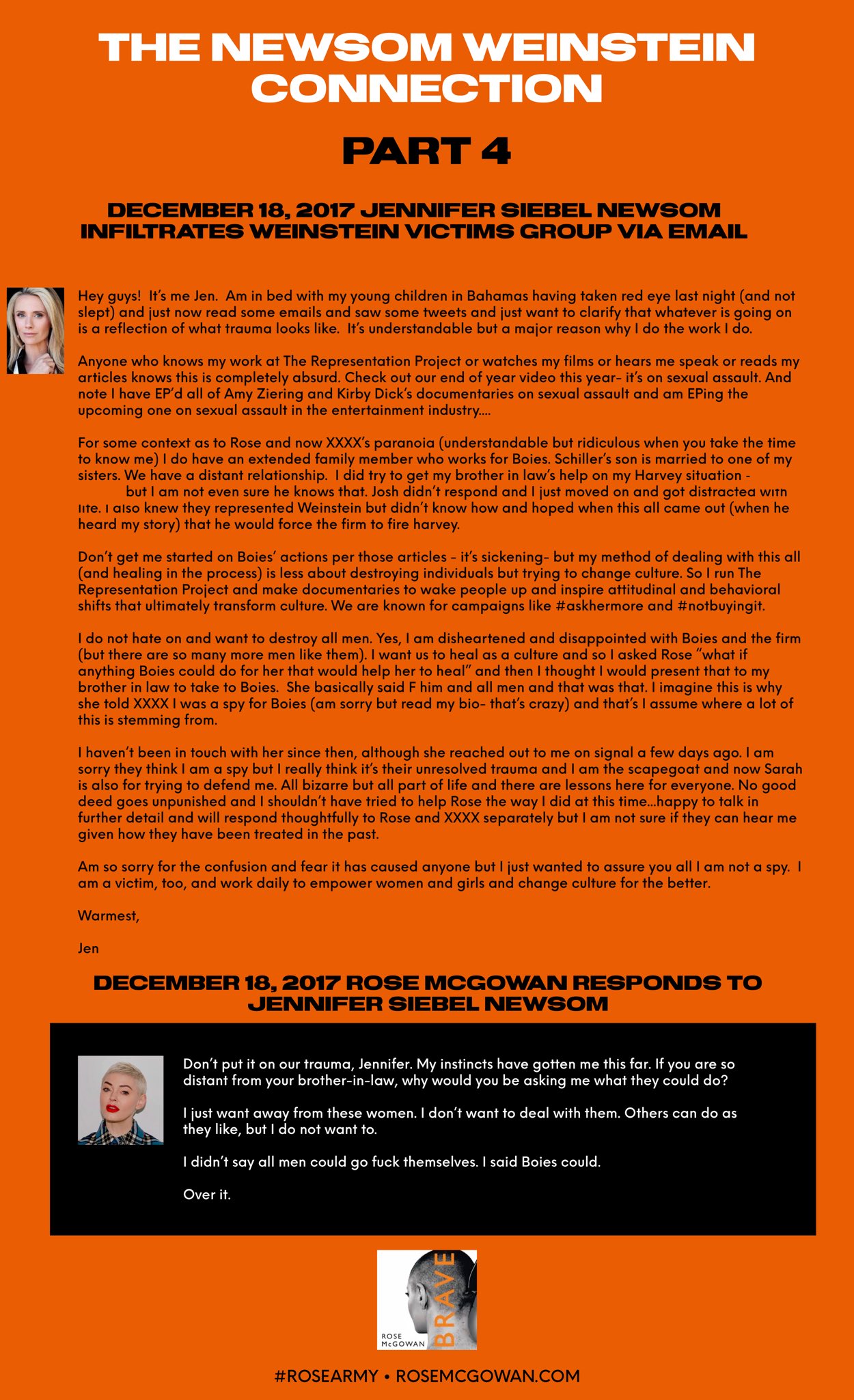 Liberal McGowan received with others the "TIME... Person of the Year 2017 honor to the #MeToo anti-harassment movement, which the magazine dubs 'the silence breakers'":
McGowan is an activist for gay rights[53][54] and campaigned against California's Proposition 8,[54] which sought to ban same-sex marriage in the state in 2008.[53] She is also known as an activist for Boston Terriers. She has two, named Bug and Fester, and has personally donated to various Boston Terrier rescues. McGowan reportedly encouraged friends to donate to Boston Terrier Rescue Net, and according to BTRN: "Having fallen in love with Bug and Fester, her friends donated generously. It amounted to a considerable contribution, which will go a long way in helping BTRN and the needy volunteers who selflessly give to deserving Bostons."[55]
In late 2009, McGowan was among several celebrities who participated in the protest NOH8.[54] In 2017, Time recognized McGowan as one of the Silence Breakers, the magazine's Person of the Year, for speaking out about sexual assault and harassment, specifically in regards to the Harvey Weinstein sexual abuse cases and the Me Too movement.[56] On January 31, 2018, Citizen Rose, a four-part documentary series produced by Bunim/Murray Productions following McGowan and her role in the Me Too movement premiered.[57][58] In August 2018, McGowan was announced to receive the Inspiration Award at the GQ Men Of The Year Awards. [https://en.wikipedia.org/wiki/Rose_McGowan and https://www.indiewire.com/2017/12/time-person-of-the-year-me-too-anti-harassment-movement-rose-mcgowan-1201904433/ ]
The Newsweek article reported McGowan "said while she did not agree with [Larry Elder] the candidate 'on all points, 'she believes he is 'the better candidate'":

"Do I agree with him on all points? No," McGowan said. "So what. He is the better candidate. He is the better man."