"Biden: [If] Unvaccinated People are Killing everyone.... Why are you Transporting Unvaccinated Illegals to our Hometowns?" & "Dangerous Pathogens... Found on Children's Masks"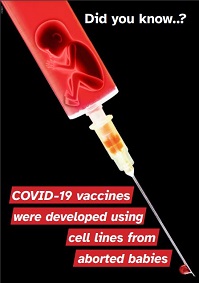 Juanita Broaddrick asked on Twitter:
Biden: Unvaccinated people are killing everyone. America: Then why are you transporting Unvaccinated illegals to our hometowns? [https://twitter.com/atensnut/status/1419321822026338314]
Gateway Pundit reported that it is a "bizarre fantasy of Alice In Wonderland... Crazy Joe Biden":
I have referenced the bizarre fantasy of Alice In Wonderland in previous posts about Crazy Joe Biden and his precipitous fall into the depths of dementia, but today took the cake. We have entered a lunatic asylum not envisioned by Lewis Carroll. For starters, Joe Biden wants to re-impose a mask mandate on vaccinated Americans in order to protect them from Covid while flinging open the border with Mexico and allowing hundreds of thousands of Covid infected, non-vaccinated illegals to enter the United States and then be shipped to states other than Texas, New Mexico, Arizona and California.
Got it? Biden claims he's scared to death of the spread of the Delta variant of Covid and wants to limit the freedom of American citizens who are vaccinated and, according to science, are protected against that virus while giving the greenlight to infected foreigners to flood states, especially states governed by Republicans. Joe Biden is attacking America in the name of what? [https://www.thegatewaypundit.com/2021/07/biden-goes-full-schizophrenic-ever-changing-covid-rules-lies/?utm_source=Email&utm_medium=the-gateway-pundit&utm_campaign=dailypm&utm_content=daily]
Also, Crazy Joe Biden apparently wants children to wear mask despite "Dangerous Pathogens Hav[ing] Been Found on Children's Masks Post 6 Hours of Rebreathing in Forced School Wear":
Report, Op-ed, Links | Ramola D | June 19, 2021
Dangerous pathogenic bacteria, parasites and fungi have been found on 5 out of six masks submitted to a University of Florida laboratory by a group of concerned mothers including Amanda Donoho, mother of three, of Gainesville Florida.
Information for this report comes from Rational Ground which may have broken this story and posts the Mask Reports here. Information below also comes from the Fox News coverage which interviewed Amanda Donoho and Dr. Nicol Saphiers.
The masks were clean and freshly washed prior to wearing and had been worn by children ages 6-11 for 6-8 hours during the school day, one worn by an adult.
The following pathogens were found:
Streptococcus pneumoniae (pneumonia)
Mycobacterium tuberculosis (tuberculosis)
Neisseria meningitidis (meningitis, sepsis)
Acanthamoeba polyphaga (keratitis and granulomatous amebic encephalitis)
Acinetobacter baumanni (pneumonia, blood stream infections, meningitis, UTIs—resistant to antibiotics)
Escherichia coli (food poisoning)
Borrelia burgdorferi (causes Lyme disease)
Corynebacterium diphtheriae (diphtheria)
Legionella pneumophila (Legionnaires' disease)
Staphylococcus pyogenes serotype M3 (severe infections—high morbidity rates)
Staphylococcus aureus (meningitis, sepsis)
Rational Ground has posted this explicatory graphic below and notes: "Half of the masks were contaminated with one or more strains of pneumonia-causing bacteria. One-third were contaminated with one or more strains of meningitis-causing bacteria. One-third were contaminated with dangerous, antibiotic-resistant bacterial pathogens. In addition, less dangerous pathogens were identified, including pathogens that can cause fever, ulcers, acne, yeast infections, strep throat, periodontal disease, Rocky Mountain Spotted Fever, and more."
[https://everydayconcerned.net/2021/06/20/cdc-should-retract-all-mask-wearing-guidance-now-that-dangerous-pathogens-have-been-found-on-childrens-masks-post-6-hours-of-rebreathing-in-forced-school-wear/]
Stop for a moment of silence, ask Jesus Christ what He wants you to do now and next. In this silence remember God, Father, Son and Holy Ghost - Three Divine Persons yet One God, has an ordered universe where you can know truth and falsehood as well as never forget that He wants you to have eternal happiness with Him as his son or daughter by grace. Make this a practice. By doing this you are doing more good than reading anything here or anywhere else on the Internet.
Francis Notes:
- Doctor of the Church St. Francis de Sales totally confirmed beyond any doubt the possibility of a heretical pope and what must be done by the Church in such a situation:

"[T]he Pope... WHEN he is EXPLICITLY a heretic, he falls ipso facto from his dignity and out of the Church, and the Church MUST either deprive him, or, as some say, declare him deprived, of his Apostolic See."
(The Catholic Controversy, by St. Francis de Sales, Pages 305-306)

Saint Robert Bellarmine, also, said "the Pope heretic is not deposed ipso facto, but must be declared deposed by the Church."
[https://archive.org/stream/SilveiraImplicationsOfNewMissaeAndHereticPopes/Silveira%20Implications%20of%20New%20Missae%20and%20Heretic%20Popes_djvu.txt]
- "If Francis is a Heretic, What should Canonically happen to him?": http://www.thecatholicmonitor.com/2020/12/if-francis-is-heretic-what-should.html
- "Could Francis be a Antipope even though the Majority of Cardinals claim he is Pope?": http://www.thecatholicmonitor.com/2019/03/could-francis-be-antipope-even-though.html
- LifeSiteNews, "Confusion explodes as Pope Francis throws magisterial weight behind communion for adulterers," December 4, 2017:

The AAS guidelines explicitly allows "sexually active adulterous couples facing 'complex circumstances' to 'access the sacraments of Reconciliation and the Eucharist.'"

- On February 2018, in Rorate Caeli, Catholic theologian Dr. John Lamont:

"The AAS statement... establishes that Pope Francis in Amoris Laetitia has affirmed propositions that are heretical in the strict sense."

- On December 2, 2017, Bishop Rene Gracida:

"Francis' heterodoxy is now official. He has published his letter to the Argentina bishops in Acta Apostlica Series making those letters magisterial documents."

Pray an Our Father now for the restoration of the Church by the bishops by the grace of God.
Election Notes:
- Intel Cryptanalyst-Mathematician on Biden Steal: "212Million Registered Voters & 66.2% Voting,140.344 M Voted...Trump got 74 M, that leaves only 66.344 M for Biden" [http://catholicmonitor.blogspot.com/2020/12/intel-cryptanalyst-mathematician-on.html?m=1]
- Will US be Venezuela?: Ex-CIA Official told Epoch Times "Chávez started to Focus on [Smartmatic] Voting Machines to Ensure Victory as early as 2003": http://catholicmonitor.blogspot.com/2020/12/will-us-be-venezuela-ex-cia-official.html
Pray an Our Father now for the grace to know God's Will and to do it.