Is Barrett's "Jacobson" Pro-Lockdown Decision "Mocking God" and Paving the Way for "Forced Sterilizations & Detention Camps"?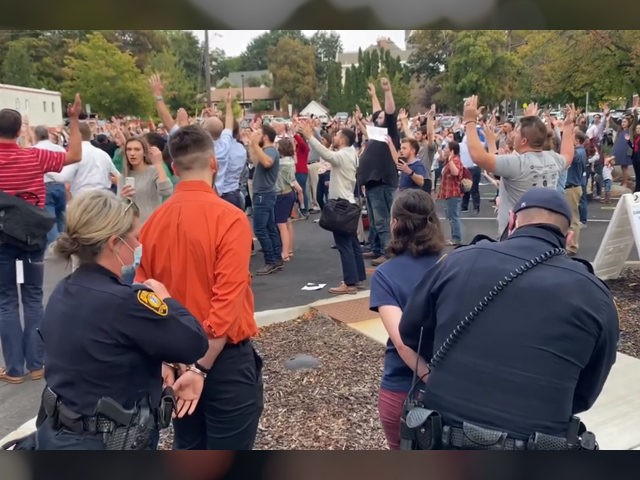 "Idaho Police Arrest 3 at Outdoor Church Worship" - [https://www.breitbart.com/]
Apparently, anti-First Amendment court decisions that allow anti-Catholic Mass government draconian restrictions to stay in place are "mocking God" according to Archbishop Salvatore Cordileone:
"'One person at a time in this great Cathedral to pray? What an insult. This is a mockery. They are mocking you, and even worse, they are mocking God,' Cordileone said."
"Three separate Eucharistic processions Sept. 20 began at St. Anthony, St. Patrick, and Star of the Sea parishes, and converged at United Nations Plaza near San Francisco City Hall before proceeding to the cathedral."
"The archdiocese ordered banners for parishioners to carry during the processions; 100 in English, 15 in Spanish, and 5 in Chinese that read: 'We Are Essential: Free the Mass!'" [https://www.catholicworldreport.com/2020/09/20/archbishop-cordileone-san-francisco-mass-restrictions-mocking-god/]
In a Washington Post opinion piece, Archbishop Cordileone declared:

"I never expected that the most basic religious freedom, the right to worship — protected so robustly in our Constitution's First Amendment — would be unjustly repressed by an American government." [https://www.blogger.com/blog/post/edit/22704303/809174827958692446]
It appears that Amy Coney Barrett may not agree with Archbishop Cordileone that anti-First Amendment court decisions that allow anti-Catholic Mass politicians in power to place draconian restrictions are 'mocking God.'"
Robert Barnes who deals in civil, criminal and constitutional law reported on Twitter that apparently Barrett is a pro-Democrat government lockdown disaster for Catholics who are demanding that their First Amendment rights be honored by judges:
- "Barrett sided with the government on almost every civil rights case, every big employer case, every criminal case, while also siding with the government on the lockdowns, on uncompensated takings, on excusing First Amendment infringements & Fourth Amendment violations." [https://twitter.com/barnes_law/status/1308233568099860481?s=21]
- "Read the excellent opinion by Justices Alito, Gorsuch, Kavanaugh & Thomas, that refutes and directly disagrees w/ the #Barrett pro-lockdown decision: "it is a mistake to take language in Jacobson as the last word on what the Constitution allows." https://supremecourt.gov/opinions/19pdf" [https://twitter.com/Barnes_Law]
- "#Barrett exclaimed the benefits of Jacobson, the decision that green-lit forced vaccines & carved out an emergency exception to Constitutional protection in "public health" or "emergency" cases used to justify forced sterilizations & detention camps. Read: https://politico.com/f/?id=00000174" [https://twitter.com/barnes_law/status/1308233568099860481?s=21]
Moreover, is Barrett's pro-Democrat government regime lockdown "Jacobson" decision not just "mocking God," but paving the way for "forced sterilizations & detention camps"?
Pray an Our Father now for the restoration of the Mass and the Church as well as for the Triumph of the Kingdom of the Sacred Heart of Jesus and the Immaculate Heart of Mary.