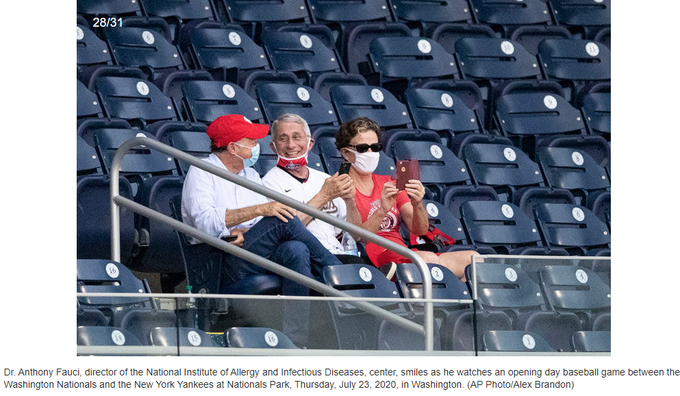 Hypocrite Anthony Fauci is not wearing a mask and not social distancing.
2020 COVID hysteria promoter Anthony
Fauci has a multi-million to billion dollar
"big-money Bill Gates conflict of interest."
On April 4, Your News, which according to Wikipedia "is a weekly BBC News television programme," in the article "[Anthony] Fauci and Birx both have a Big-Money Bill Gates Conflict of Interest" reported:
"Gates has lots of pull in the medical world, he has a multi-million dollar relationship with Dr. [Anthony] Fauci..."
"Coronavirus response team member Dr. Deborah Birx... sits on the board of a group that has received billions from Gates foundation, and Birx reportedly used a disputed Bill Gates-funded model for the White House Coronavirus effort. Gates is a big proponent for a population lockdown scenario for the Coronavirus outbreak."
Moreover, the article revealed that:
"Gates is funding coronavirus vaccine candidates that would compete with Chloroqine, and Dr. Fauci's agency is co-partnered on the project..."
"...Fauci is tight with Bill Gates... Fauci [who is a big promoter of vaccines] hung out with Gates in 2018 at an NIH workshop..."
" ... Gates admitted that he stopped President Trump's planned vaccine safety commission with Robert Kennedy Jr. in the early days of the Trump administration."
In 2016, in The Atlantic there was a Reuters photo of the present constant scene of Fauci and Dr. Anne Schuchat standing behind the official "The White House" podium making predictions with a virus map behind them.
(The Atlantic, "The Obama Administration's Zika Offensive," April, 12, 2016)
Back in 2016, Fauci hyping as well as making similar predictions about a virus that was "scary" and didn't supposedly need to be "hype[d]" despite the fact that he, his collaborators and the media were hyping it?
Fauci's present coronavirus collaborator Dr. Schuchat was speaking about a virus that was "scary" and didn't need to be "hype[d]" according to NBC News said of the Zika virus:
"'Frankly, this virus is scary enough on its own. You don't have to hype this,' Schuchat warned."
(NBC News, "Doctors say Zika Funding from Congress as some Republicans remain Suspicious, May, 24, 2016)
Note that the article had Schuchat not "saying" the above-mentioned quote, but used the scarier word "warned." How's that for objective journalism?
In this article, NBC News having impartial journalistic integrity and never "hyping" the news also had the a map from "elife, Oxford University and the University of Washington" warning:
" - New Map Finds 2 Billion People at Risk of Zika Virus."
Fauci also having impartial integrity and never "hyping" according to the above article warned:

"The president [Barack Obama] asked for 1.9 billion because we need 1.9 billion... We need it."
How accurate were the Obama administration and its collaborator Fauci's predictions about the "scary" Zika virus that needed $1.9 billion funding because it is was really "scary"?
Puerto Rican author Sonia Lugo who wrote "The Zika Virus Hoax Burial Site: Puerto Rico's Downtrodden Economy" according to her Amazon Description revealed:
"2017, and the projection of 850,000 Zika infections never occurred in Puerto Rico. Up to this day it hasn't reached more than 40,000. Furthermore, the microcephaly [brain damaged new born babies] were practically none... Who is, or has been behind the Zika hoax of all time? What was the real motives? The FBI and the new Trump DOJ Secretary... is urged to investigate the Obama administration and his CDC [Center for Disease Control and Prevention], and former US Health Secretary."
(Kindle edition, Publication date: April 10, 2017)
Also, National Public Radio (NPR) reported in 2017:
"Back in 2015, Brazil reported a horrific surge in birth defects... "
"Scientists quickly concluded the
Zika virus
was the culprit... health officials expected another surge in microcephaly cases"
"But that never happened."
(NPR, "Why didn't Zika cause a Surge in Microcephaly in 2016," March 30, 2017)
Remember that author Lugo asked:
"What was the real motives" for "the Zika hoax"?
Stat News reported that pro-life Republicans thought the Obama and Fauci request for almost 2 billion dollars funding might be for killing unborn babies:

"Two Republican lawmakers... could get the [Zika] virus [funding] derailed by battles whether the money could be used for abortion."
(Stat News, "Abortion politics threatens to derail Zika funding in Congress, February 10, 2016)
Why might the so-called non-political scientist Fauci want money to fund abortion?
Everyone knows that Obama is pro-abortion and pro-contraception, but nobody apparently realizes that his collaborator Faucis is a Obama protege on this issues and anti-Catholic according to Buzz Feed News:
"'How do you treat this in a country where 60% of the pregnancies are unintended, where the Catholic Church doesn't want anything to do with terminating a pregnancy [aborting or killing an unborn baby]?' Fauci asked."
(Buzz Feed News, "Zika is a "Potential Disaster' for US Pregnant Women, Tony Fauci Warns," May 9, 2016)
It is infallible Catholic dogma that contraception is instinctually evil as is abortion. It is a heresy to go against these teachings.
Today, one of the most heretical orders in the Church is the Jesuit order. Sadly, Sauci did his "per-med... at the [Jesuit] College of the Holy Cross in Worcester."
(Boston Globe, "Dr. Anthony Fauci, point man on coronavirus, is a Holy Cross alum," March 17, 2020)
Sadly, there is a Jesuit in Rome called Francis who like Fauci apparently "suggests contraception could be permissible in [the] Zika [hoax] fight" according to The Washington Post:
"Pope Francis told reporters Thursday that using artificial contraception may be morally acceptable... "
"... Some felt he was speaking of artificial contraception, since he mentioned a case of nuns using hormones."
(The Washington Post, "Pope Francis suggests contraception could be permissible in Zika fight," February 18, 2016)
Pray an Our Father now for the restoration of the Mass and the Church as well as for the Triumph of the Kingdom of the Sacred Heart of Jesus and the Immaculate Heart of Mary.