Airman, Monk, Priest, Bishop: An interview with Bp. Rene Henry Gracida
The retired Bishop of Corpus Christi, Texas, now 92, discusses fighting in World War II, being a monk and priest, taking a stand against pro-abortion politicians, and his friendship with Mother Angelica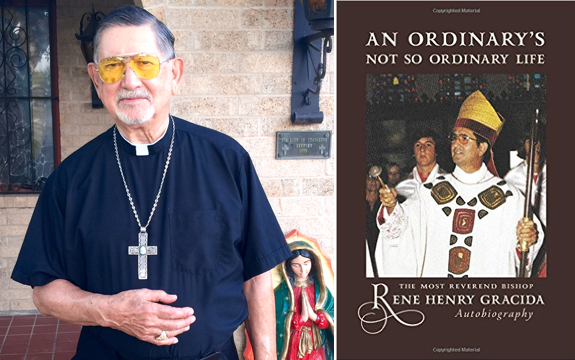 Bishop Rene Henry Gracida, the retired Bishop of Corpus Christi, Texas, has released his autobiography, An Ordinary's Not So Ordinary Life, available through Amazon.com. [https://www.catholicworldreport.com/2016/01/11/airman-monk-priest-bishop-an-interview-with-bp-rene-henry-gracida/]
Bishop Rene Henry Gracida's 100th birthday is coming up on June 9 so I started reading his autobiography in preparation for the great day. Here's a glimpse of his life as a monk learning to "be a novice not an engineer":
The wall washing was tedious and boring and I did not particularly care for it. The farm work was much more to my liking, probably because of my love of out door life. The farm work consisted, for example, in the annual potato harvest which was quite large considering that the potato harvest had to feel not only the monks but also the college and seminary students. Harvesting potatoes was accomplished by each novice walking with a five-gallon bucket down the rows in the potato field and picking up the potatoes that had been exposed by the tractor pulling a harrow-like device. It can be back-breaking work. Being the engineer that I am I persuaded my fellow novices to adapt my system for potato harvesting. Instead of each novice carrying his own five-gallon bucket, one novice would walk between the rows carrying two five-gallon buckets and two novices without buckets would pick up the potatoes and put them in the buckets. It was a faster and much more efficient system for harvesting the potatoes. There was only one problem with it: it did not meet with the approval of the Novice Master. What I had overlooked was that the purpose of harvesting potatoes was not only the gathering of the potatoes, but from the standpoint of the status of the harvesters, novices, it was an exercise in humility, patience and perseverance. So, we each got back our individual buckets and resumed picking up potatoes in the traditional manner. I had learned something I was supposed the learn as a novice, be a novice not an engineer. (An Ordinary's Not So Ordinary Life, Page 50)
Pray an Our Father now for reparation for the sins committed because of Francis's Amoris Laetitia.

Pray an Our Father now for the restoration of the Church as well as the Triumph of the Kingdom of the Sacred Heart and the Immaculate Heart of Mary.
Stop for a moment of silence, ask Jesus Christ what He wants you to do now and next. In this silence remember God, Father, Son and Holy Ghost - Three Divine Persons yet One God, has an ordered universe where you can know truth and falsehood as well as never forget that He wants you to have eternal happiness with Him as his son or daughter by grace. Make this a practice. By doing this you are doing more good than reading anything here or anywhere else on the Internet.
Francis Notes:
- Doctor of the Church St. Francis de Sales totally confirmed beyond any doubt the possibility of a heretical pope and what must be done by the Church in such a situation:

"[T]he Pope... WHEN he is EXPLICITLY a heretic, he falls ipso facto from his dignity and out of the Church, and the Church MUST either deprive him, or, as some say, declare him deprived, of his Apostolic See."
(The Catholic Controversy, by St. Francis de Sales, Pages 305-306)

Saint Robert Bellarmine, also, said "the Pope heretic is not deposed ipso facto, but must be declared deposed by the Church."
[https://archive.org/stream/SilveiraImplicationsOfNewMissaeAndHereticPopes/Silveira%20Implications%20of%20New%20Missae%20and%20Heretic%20Popes_djvu.txt]
- "If Francis is a Heretic, What should Canonically happen to him?": http://www.thecatholicmonitor.com/2020/12/if-francis-is-heretic-what-should.html
- "Could Francis be a Antipope even though the Majority of Cardinals claim he is Pope?": http://www.thecatholicmonitor.com/2019/03/could-francis-be-antipope-even-though.html
- If Francis betrays Benedict XVI & the"Roman Rite Communities" like he betrayed the Chinese Catholics we must respond like St. Athanasius, the Saintly English Bishop Robert Grosseteste & "Eminent Canonists and Theologians" by "Resist[ing]" him: https://www.thecatholicmonitor.com/2021/12/if-francis-betrays-benedict-xvi.html
- LifeSiteNews, "Confusion explodes as Pope Francis throws magisterial weight behind communion for adulterers," December 4, 2017:

The AAS guidelines explicitly allows "sexually active adulterous couples facing 'complex circumstances' to 'access the sacraments of Reconciliation and the Eucharist.'"

- On February 2018, in Rorate Caeli, Catholic theologian Dr. John Lamont:

"The AAS statement... establishes that Pope Francis in Amoris Laetitia has affirmed propositions that are heretical in the strict sense."

- On December 2, 2017, Bishop Rene Gracida:

"Francis' heterodoxy is now official. He has published his letter to the Argentina bishops in Acta Apostlica Series making those letters magisterial documents."

Pray an Our Father now for the restoration of the Church by the bishops by the grace of God.
Election Notes:
- Intel Cryptanalyst-Mathematician on Biden Steal: "212Million Registered Voters & 66.2% Voting,140.344 M Voted...Trump got 74 M, that leaves only 66.344 M for Biden" [http://catholicmonitor.blogspot.com/2020/12/intel-cryptanalyst-mathematician-on.html?m=1]
- Will US be Venezuela?: Ex-CIA Official told Epoch Times "Chávez started to Focus on [Smartmatic] Voting Machines to Ensure Victory as early as 2003": http://catholicmonitor.blogspot.com/2020/12/will-us-be-venezuela-ex-cia-official.html
Pray an Our Father now for the grace to know God's Will and to do it.
Pray an Our Father now for America.
Pray an Our Father now for the restoration of the Church as well as the Triumph of the Kingdom of the Sacred Heart and the Immaculate Heart of Mary.