High-profile Lawyer Barnes: Pentagon is in "Insurrection" & "Abortionist Insurrection – Democrat Leaders Lead Calls for Mass Violence, Violent Mobs Terrorize Communities"
In a constitutional democracy, the three branches of government have equal legitimacy. So attacking the Supreme Court as "illegitimate" is equivalent to attacking Joe Biden's election as "illegitimate." If it's okay to do the former, it is also okay to do the latter
#2000mules
High-profile
trial lawyer
Robert Barnes who deals in civil, criminal and constitutional law reported on Twitter that
the Obama/Biden Pentagon is in "insurrection":
Quote Tweet
BREAKING: The Pentagon has stated that any abortion laws enacted as a result of the Supreme Court's decision will not be recognized.
9:53 PM · Jun 25, 2022
Twitter for Android
[https://twitter.com/barnes_law/status/1540921043631558657]
The Epoch Times reported that Joe Biden's pro-abortion Democrat insurrectionist-like terrorists are sweeping across our country in the article "Destruction and Vandalism by Pro-Abortion Extremists Sweeps America":
Shadowy pro-abortion group Jane's Revenge has orchestrated a nationwide campaign of destruction and vandalism against pro-life groups for which police have yet to make an arrest...
... Federal and local police have yet to arrest anyone for attacking a pro-life clinic since the first attack on May 8.
Attackers on the Loose
The Epoch Times has interviewed seven of the 28 pro-life organizations attacked since the Dobbs v. Jackson leak. Several attacked organizations refused to be interviewed because they feared a higher profile would bring more attacks.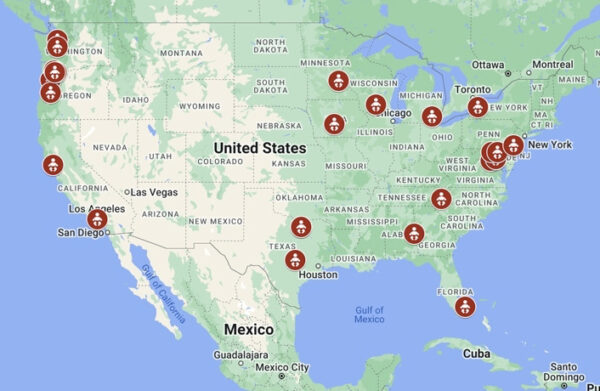 But all organizations that spoke with the Epoch Times said they wouldn't quit because of the attacks.
"We're not going to go away. We're not going to be quiet. We are going to continue to be bold and strong. Because we are on the right side of this issue," Appling with Wisconsin Family Action said.
The vast majority of groups contacted by the Epoch Times said they had video of their attackers and were working with the police. Several clinics that received threats from Jane's Revenge have also passed on information to the FBI. [https://www.theepochtimes.com/destruction-and-vandalism-by-pro-abortion-extremists-sweeps-america_4545276.html?est=8itZzrw%2B913WAlFMLuoQybnefZIav7Sg5nMYUVPmgeciXn0WkLTBmtmwDUOF]
Pray an Our Father now for reparation for the sins committed because of Francis's Amoris Laetitia.

Pray an Our Father now for the restoration of the Church as well as the Triumph of the Kingdom of the Sacred Heart and the Immaculate Heart of Mary.
Stop for a moment of silence, ask Jesus Christ what He wants you to do now and next. In this silence remember God, Father, Son and Holy Ghost - Three Divine Persons yet One God, has an ordered universe where you can know truth and falsehood as well as never forget that He wants you to have eternal happiness with Him as his son or daughter by grace. Make this a practice. By doing this you are doing more good than reading anything here or anywhere else on the Internet.
Francis Notes:
- Doctor of the Church St. Francis de Sales totally confirmed beyond any doubt the possibility of a heretical pope and what must be done by the Church in such a situation:

"[T]he Pope... WHEN he is EXPLICITLY a heretic, he falls ipso facto from his dignity and out of the Church, and the Church MUST either deprive him, or, as some say, declare him deprived, of his Apostolic See."
(The Catholic Controversy, by St. Francis de Sales, Pages 305-306)

Saint Robert Bellarmine, also, said "the Pope heretic is not deposed ipso facto, but must be declared deposed by the Church."
[https://archive.org/stream/SilveiraImplicationsOfNewMissaeAndHereticPopes/Silveira%20Implications%20of%20New%20Missae%20and%20Heretic%20Popes_djvu.txt]
- "If Francis is a Heretic, What should Canonically happen to him?": http://www.thecatholicmonitor.com/2020/12/if-francis-is-heretic-what-should.html
- "Could Francis be a Antipope even though the Majority of Cardinals claim he is Pope?": http://www.thecatholicmonitor.com/2019/03/could-francis-be-antipope-even-though.html
- If Francis betrays Benedict XVI & the"Roman Rite Communities" like he betrayed the Chinese Catholics we must respond like St. Athanasius, the Saintly English Bishop Robert Grosseteste & "Eminent Canonists and Theologians" by "Resist[ing]" him: https://www.thecatholicmonitor.com/2021/12/if-francis-betrays-benedict-xvi.html
- LifeSiteNews, "Confusion explodes as Pope Francis throws magisterial weight behind communion for adulterers," December 4, 2017:

The AAS guidelines explicitly allows "sexually active adulterous couples facing 'complex circumstances' to 'access the sacraments of Reconciliation and the Eucharist.'"

- On February 2018, in Rorate Caeli, Catholic theologian Dr. John Lamont:

"The AAS statement... establishes that Pope Francis in Amoris Laetitia has affirmed propositions that are heretical in the strict sense."

- On December 2, 2017, Bishop Rene Gracida:

"Francis' heterodoxy is now official. He has published his letter to the Argentina bishops in Acta Apostlica Series making those letters magisterial documents."

Pray an Our Father now for the restoration of the Church by the bishops by the grace of God.
Election Notes:
- Intel Cryptanalyst-Mathematician on Biden Steal: "212Million Registered Voters & 66.2% Voting,140.344 M Voted...Trump got 74 M, that leaves only 66.344 M for Biden" [http://catholicmonitor.blogspot.com/2020/12/intel-cryptanalyst-mathematician-on.html?m=1]
- Will US be Venezuela?: Ex-CIA Official told Epoch Times "Chávez started to Focus on [Smartmatic] Voting Machines to Ensure Victory as early as 2003": http://catholicmonitor.blogspot.com/2020/12/will-us-be-venezuela-ex-cia-official.html
Pray an Our Father now for the grace to know God's Will and to do it.
Pray an Our Father now for America.
Pray an Our Father now for the restoration of the Church as well as the Triumph of the Kingdom of the Sacred Heart and the Immaculate Heart of Mary.