Are "No Force, No Discrimination" Japan & the Freedom Trucker Convoy really the "Greatest threats to Democracy" as claimed by Trudeau who "knelt in the mud with minority protestors from Black Lives Matter"?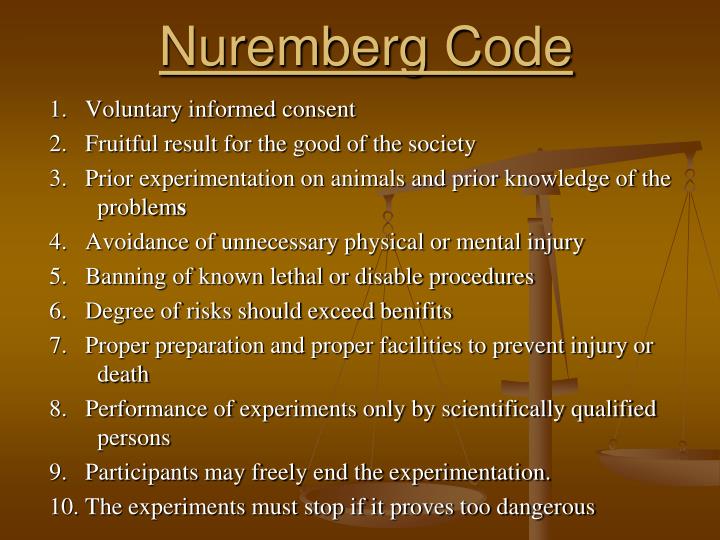 Justin Trudeau on Twitter: "Update: In ...
"The Nuremberg code is what is known in the U.S. law and International Law as a jus cogens principle of international law. As such, what that means is that this is peremptory law, a universally recognized law, a law that governs all civilized societies. The Federal courts have recognized this repeatedly about the Nuremberg Code. Remember we criminally prosecuted people, the Nazis, based on this principle being in place, even though it was never part of German law, even though it wasn't part of any treaty. It was simply, this was universally recognized law that all civilized societies have to obey. And the (US) Federal courts have repeatedly said it is governing and binding. It doesn't have to be part of a treaty, it doesn't have to be part of the constitution; it doesn't have to be part of a statute, when it's a universally recognized human right. That's what it is and we put people in prison and executed people based on it. Were we lying? Because otherwise it applies to us just as much as it applied to the Nazis." - High-profile trial lawyer Robert Barnes who deals in civil, criminal and constitutional law [https://www.linkedin.com/posts/zo%C3%AB-alexandra-97320514_robert-barnes-when-asked-to-explain-how-the-activity-6882937563166904320-so6B]

The Freedom Trucker Convoy is calling for Canada to allow such freedoms in their country as are allowed in Japan which doesn't believe in forced injections and discrimination:
Peter Stockland, who is a former editor-in-chief of the Montreal Gazette and co-founder of Convivium magazine, stated the "Freedom Convoy Protest Reflects Canadians' Democratic Spirit" not the "mouthpieces for straight-line government messaging" media and "Prime Minister Trudeau's smearing" Nazi-like name-calling propaganda:
But there is no excuse, either, for Prime Minister Trudeau's smearing of those who organized and those who turned out for the event as potentially violent hate-mongers and racist flag wavers. There is no defence for the media-politico excesses of sneering, condemnation, scapegoating, and fearmongering that descended like an acid cloud on the convoy and those who came out to greet it. A truly egregious aspect of that contempt is the way in which it turned journalists, however knowingly or unwittingly, into mouthpieces for straight-line government messaging.
No one that I'm aware of, and I watch this business as closely as one can stomach, bothered to ask: "Mr. Prime Minister, you are a minority government leader for the second time, yet you condemn the 'minority' protestors of the Freedom Convoy even though you knelt in the mud with minority protestors from Black Lives Matter early in the pandemic. Can you show us, sir, the decision-making tool you use to determine how and why your minorities are worthy, but those you oppose are dismissed as anti-Canadian?"...
... I read, on the contrary, a column by a Toronto Star writer who placed the truckers' protest in a triptych of "greatest threats to democracy." The other two were the crisis in Ukraine, and Donald Trump's delusional claims about election theft. Really? Really. I pick out the example, rather than legions of other contenders, precisely because the columnist responsible has been among our most respected—deservedly so—voices on national affairs who traditionally keeps her head when all about her are running around in ever diminishing circles shrieking yip-yip-yip. Yet even she, on this occasion at least, took to parroting government mythology that anyone who opposes current public policy on COVID-19 is not merely a medical risk but an anti-democratic menace.
Therein lies something even worse than paid journalists subbing for the communications offices of the governments they are supposed to cover. It is the clouding of media-politico eyes to the reality that the so-called Freedom Convoy was the epitome of democratic spirit, albeit not a shining example of executing effectively to keep the mouth-breathers and jack-a-napes at the outer edges of the tribal circle.
The trucks and the burly men with beards who drive them were a means for calling forth that spirit, but they were not the spirit itself. Its essence was the thousands of ordinary citizens who, truckless, made their way to Parliament Hill to show their support, yes, but even more to be counted among the Canadians who've had it to the eyeballs visible above their masks with unspeakably arrogant government incompetence in the handling of the pandemic. They were there as citizens who have not just a right, but a duty, to speak out against policies that have backfired from the very beginning. [https://www.theepochtimes.com/freedom-convoy-protest-reflects-canadians-democratic-spirit_4247739.html?utm_source=Morningbrief&utm_campaign=mb-2022-02-01&utm_medium=email&est=7pduy5BhziXsLCJdrMxfxwUSVzndBFeRrs7Q%2FJV5MVW3%2BzFdsA0KFPW6I5cu]
Pray an Our Father now for reparation for the sins committed because of Francis's Amoris Laetitia.