Nazi-like Pro-Abortionists War on Mankind's "Food Supply": IP13 Democrat Ballot Initiative in Oregon to "Criminalize the Farming of Food Animals"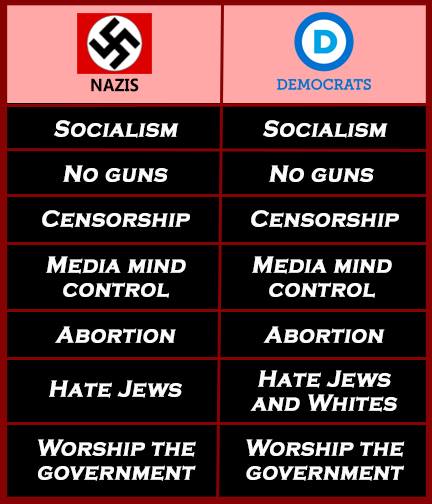 And yet the same left-wing lunatics who want to outlaw the slaughter of animals are thrilled to slaughter human babies via abortion. Because there's no one more oblivious to human rights than an animal rights activist, it seems. They also support the maiming of the genitalia of human youngsters, since chemical castration of young boys in the name of LGBT "progressivism" is considered a positive thing by these lunatics, but castrating a bull will soon be a criminal act.
As I explain in today's podcast, if you really want to end suffering in the world, start protecting human babies from being butchered by Planned Parenthood. And stop voting for lunatic Democrats who want to destroy everything that keeps human civilization humming along. - Natural News website
On April 22, Western Farmer-Stockman, the Western farmers and livestock news outlet, reported that the pro-abortion Democrat Oregon ballot initiative IP13 "would classify slaughter as aggravated abuse, redefine AI and castration as sexual assault":
"An Oregon ballot initiative proposed for 2022 would effectively criminalize the farming of food animals in the state by classifying their slaughter as aggravated abuse and redefining artificial insemination and castration as sexual assault.
Initiative Petition 13, filed with Oregon elections officials in November, would remove farmer exemptions from existing laws barring animal cruelty and specifically target practices used for "(b)reeding domestic, livestock, and equine animals," according to the text of the initiative.
The proposed Abuse, Neglect, and Assault Exemption Modification and Improvement Act would delete all references to "good animal husbandry" from state statute and only allow an animal to be injured in cases of a human's self-defense." [https://www.farmprogress.com/livestock/oregon-initiative-would-ban-animal-slaughter-breeding]

Ice Age Farmer, on April 23, said "Oregon Bill IP13 would criminalize raising food animals in the state, and reclassify animal husbandry practices as 'sexual assault'":
"The bill specifies that animals can only be eaten after dying of natural causes (at which point, aged/diseased meat is not good). Oregon's 12,000 beef producers raising about 1.3 million head of cattle are slated for elimination, as traditional farming and ranching is shut down in favor of lab-grown meat and indoor farms owned by the technocrats — a perfect way to force the population into perfect slavery." [https://www.iceagefarmer.com/]
The Natural News website stated the answer to the fringe pro-abortionists war on mankind's "food supply" is to stop "the Democrats...war against humanity" by not "voting for lunatic Democrats":

As lunatic Leftists continue to destroy human civilization, they seem to be confused why the world they've created sucks so bad. When they destroy economies, they wonder why so many people are jobless. When they destroy health, they wonder why so many people are sick. And when they destroy the food supply, they wonder why so many people are starving.
If we really want to create a world without suffering, the real answer is to destroy the Democrats and stop their war against humanity.
Today's Situation Update is an especially uproarious take on the coordinated assault on the food supply. In it, I discuss all sorts of bizarre things including the harvesting of bull semen, which Oregon lefties want to define as "sexual assault."
And yet the same left-wing lunatics who want to outlaw the slaughter of animals are thrilled to slaughter human babies via abortion. Because there's no one more oblivious to human rights than an animal rights activist, it seems. They also support the maiming of the genitalia of human youngsters, since chemical castration of young boys in the name of LGBT "progressivism" is considered a positive thing by these lunatics, but castrating a bull will soon be a criminal act.
As I explain in today's podcast, if you really want to end suffering in the world, start protecting human babies from being butchered by Planned Parenthood. And stop voting for lunatic Democrats who want to destroy everything that keeps human civilization humming along.
Brighteon.com/55e897fd-36ac-479c-b8e0-992d5d0c6d6a [https://www.naturalnews.com/2021-04-27-total-war-on-food-targeting-ranchers-to-outlaw-all-forms-of-me]
It appears that the pro-abortion Democrats and Joe Biden may want to move the United States towards a totalitarian Vegetarianist Nazi-like regime. [See: Why is Pro-Sterility & Population Control Biden apparently becoming a "Convinced Vegetarian" like Hitler?: https://www.thecatholicmonitor.com/2021/04/why-is-pro-sterility-population-control.html]

Dr. Natasha Campbell-McBride says the Democrat's tyrannical push for a forced Vegan "healthy lifestyles" may be dangerous to your health:
A 21 year old Helen was brought to my clinic by her worried aunt. Helen was dangerously underweight and getting thinner by the day. She was a tall girl - 185 cm in height (over 6 feet) with a weight of 51 kg (8 stone). She obviously used to be quite beautiful, but now she looked emaciated, pale, her eyes were dull and her voice feeble. Her menstruations have stopped seven months ago.
Helen grew up abroad and came to England to study at a university. Back at home processed foods were not available. So, Helen was brought up on home-cooked wholesome meals made from fresh locally produced ingredients; fresh meat, fresh eggs and fresh whole milk constituted a large percent of her diet. She was always very healthy. When she came to England she soon developed a dislike for the processed junk diets her fellow students lived on and decided to eat a healthy diet. Short research in popular literature lead her to the idea that the 'healthiest diet' is a vegetarian one and a low-fat one. So, Helen started cooking her own meals out of whole grains, beans, lentils, nuts, lots of vegetables and fruit. She drank only water and fruit juices. The only fat she had was some olive oil and peanut butter. She consumed no animal foods at all and tried to eat everything organic. She became involved with yoga and enjoyed it.
After a few months on this diet Helen's menstruations have stopped and she started loosing weight. But none of it seemed to worry her and she 'felt well'. When she went home for a visit her family were horrified by the way she looked and contacted her aunt in England asking for help. By the time of the consultation Helen has been on her 'healthy diet' for more than a year.
So, what happened to Helen? Didn't she follow the healthiest diet in the world and the one we should all strive for? That is what the authorities and all the mainstream media are telling us. And what about all the research showing that following a vegan diet reduces high blood pressure, helps to recover from diabetes and many other chronic diseases? What about Gerson treatment protocol for cancer and other chronic disease, which is purely vegan? What about other cancer-treatment protocols most of which are vegan? These protocols and approaches show a record of success...
... Nature has designed the next group of life - predators. Wolves, lions, tigers, foxes, etc. cannot digest plant matter because they are equipped with a very different digestive system. Human digestive system is similar to the gut of predatory animals: we have only one small stomach with virtually no bacteria in it. In fact our human stomach is designed to produce acid and pepsin, which are only able to break down meat, fish, milk and eggs. As the food moves out of our stomachs into the intestines, pancreatic enzymes and bile are added to the mix to break down the food further and absorb it. In short our digestive systems have been designed to best cope with animal foods. People knew this fact for millennia. They knew that the most nourishing foods for them came from animals; they would only eat plants as a supplement to meat or when animal foods were in short supply...
... So, the fact is humans can live without plants. However, we cannot live without animal foods [meat, eggs, milk, etc... ]!
But what about all the plant-based diets shown to help with chronic disease? Why are cold-pressed good quality plant oils shown to be beneficial for so many degenerative conditions? Supplementing these oils is promoted by both the mainstream and alternative medical community. What about all the antioxidants, enzymes, vitamins, minerals, bio-flavonoids and other substances in plants which are shown to be beneficial to health? Not a month passes without our science discovering that broccoli has anti-cancer properties, cabbage has substances which heal the digestive system, nuts boost immunity, etc. etc. Here we come to the real purpose of eating plants: they are CLEANSERS. While they are unable to feed our bodies to any serious degree they are wonderful at keeping us clean on the inside. They also provide energy for the body to use in the form of glucose and some co-factors in the form of vitamins and minerals, but their main purpose is to keep your body clean and free of toxins. Indeed plants are equipped with powerful detoxifying substances, which can remove various man-made chemicals, pollution and other toxins we accumulate in our bodies. Plants are particularly powerful cleansers when consumed raw. Their juices absorb in the upper parts of the digestive system contributing a plethora of detoxifying substances and co-factors; juicing of raw greens, vegetables and fruit is a major part of any cleansing protocol...
... Vegetarian diets, which include animal foods, can be adopted as a long-term strategy. It is possible to be a healthy vegetarian as long as you continue eating some animal foods to provide feeding/building substances for your body, such as plenty of eggs and full-fat dairy. Obviously all processed foods should be removed and the diet needs to be natural. Such vegetarian cultures exist in India. [http://www.doctor-natasha.com/feeding-versus-cleansing.php]
The Healthy Home Economist website reported that "Vegetarianism is Not Healthy!":
Folks who jump on the vegetarian bandwagon are risking their long term health as it is impossible for human beings to get all the nutrients they need from plant based foods alone. Vitamin B12, for example, is completely missing from plant based foods and can only be obtained from consuming animal tissues. While it is true that Vitamin B12 "analogs" are present in some plant foods, these analogs are not true vitamin B12 and actually increase a vegetarian's need for the real thing! This article discusses how 25% of adults suffer from life threatening B12 deficiency.
The nutritional deficiencies which frequently present in vegetarians are particularly devastating to young women who plan to one day bear children.
Infertility in vegetarians is higher than in girls who eat meat. In addition, vegetarian women who do manage to get pregnant carry fetuses that are at risk for more birth defects. Vegetarians are also far more likely to have females instead of male babies.
While having a girl instead of a boy is certainly not a problem in and of itself, this statistic does provide evidence that vegetarians are not as well nourished as omnivores. Boy fetuses are known to be less robust than female fetuses and, as such, require a higher level of maternal nutrition to remain viable.
Vegetarianism Refuted by Anthropology
Someone who is considering the vegetarian lifestyle need only to read the fascinating work of Dr. Weston A. Price and his groundbreaking book Nutrition and Physical Degeneration to be quickly convinced that this approach to eating is unwise. Dr. Price traveled the world in the 1930's and studied all the indigenous cultures that had not yet been affected by what he called "the displacing foods of modern commerce".
The cultures he studied included the Eskimos from Alaska, the Aborigines in Australia and every group that he could find in between. Dr. Price carefully examined and took pictures of these healthy peoples who were free of chronic disease, had happy, optimistic outlooks on life, and perfectly straight teeth virtually free of cavities. The traditional foods that each of these cultures consumed all contained animal foods. To repeat, none of these cultures was vegetarian. In fact, Dr. Price was unable to find an indigenous population of vegetarians that exhibited the health and vitality of the meat eating cultures.
Choosing Healthy Meats is Critical
While eating meat is clearly beneficial to health, it is also important to choose meat that comes from healthy animals in the first place. Most of the meat found on grocery store shelves comes from animals that are confined for their entire lives and are subjected to antibiotics and other drugs to control the disease that results from living in such inhumane conditions. It is in reaction to the negative publicity of these "factory farms" that some folks turn to vegetarianism in the first place. A better approach to protesting the ill treatment of animals raised in confinement would be to purchase grassfed meats from a local farmer and boycott supermarket meats. [https://www.thehealthyhomeeconomist.com/vegetarianism-is-not-healthy/]
Stop for a moment of silence, ask Jesus Christ what He want you to do next. Make this a practice. By doing this you are doing more good than reading anything here or anywhere else on the Internet
Francis Notes:
- Doctor of the Church St. Francis de Sales totally confirmed beyond any doubt the possibility of a heretical pope and what must be done by the Church in such a situation:

"[T]he Pope... WHEN he is EXPLICITLY a heretic, he falls ipso facto from his dignity and out of the Church, and the Church MUST either deprive him, or, as some say, declare him deprived, of his Apostolic See."
(The Catholic Controversy, by St. Francis de Sales, Pages 305-306)

Saint Robert Bellarmine, also, said "the Pope heretic is not deposed ipso facto, but must be declared deposed by the Church."
[https://archive.org/stream/SilveiraImplicationsOfNewMissaeAndHereticPopes/Silveira%20Implications%20of%20New%20Missae%20and%20Heretic%20Popes_djvu.txt]
- "If Francis is a Heretic, What should Canonically happen to him?": http://www.thecatholicmonitor.com/2020/12/if-francis-is-heretic-what-should.html
- "Could Francis be a Antipope even though the Majority of Cardinals claim he is Pope?": http://www.thecatholicmonitor.com/2019/03/could-francis-be-antipope-even-though.html
- LifeSiteNews, "Confusion explodes as Pope Francis throws magisterial weight behind communion for adulterers," December 4, 2017:

The AAS guidelines explicitly allows "sexually active adulterous couples facing 'complex circumstances' to 'access the sacraments of Reconciliation and the Eucharist.'"

- On February 2018, in Rorate Caeli, Catholic theologian Dr. John Lamont:

"The AAS statement... establishes that Pope Francis in Amoris Laetitia has affirmed propositions that are heretical in the strict sense."

- On December 2, 2017, Bishop Rene Gracida:

"Francis' heterodoxy is now official. He has published his letter to the Argentina bishops in Acta Apostlica Series making those letters magisterial documents."

Pray an Our Father now for the restoration of the Church by the bishops by the grace of God.
Election Notes:
- Intel Cryptanalyst-Mathematician on Biden Steal: "212Million Registered Voters & 66.2% Voting,140.344 M Voted...Trump got 74 M, that leaves only 66.344 M for Biden" [http://catholicmonitor.blogspot.com/2020/12/intel-cryptanalyst-mathematician-on.html?m=1]
- Will US be Venezuela?: Ex-CIA Official told Epoch Times "Chávez started to Focus on [Smartmatic] Voting Machines to Ensure Victory as early as 2003": http://catholicmonitor.blogspot.com/2020/12/will-us-be-venezuela-ex-cia-official.html
Pray an Our Father now for the grace to know God's Will and to do it.