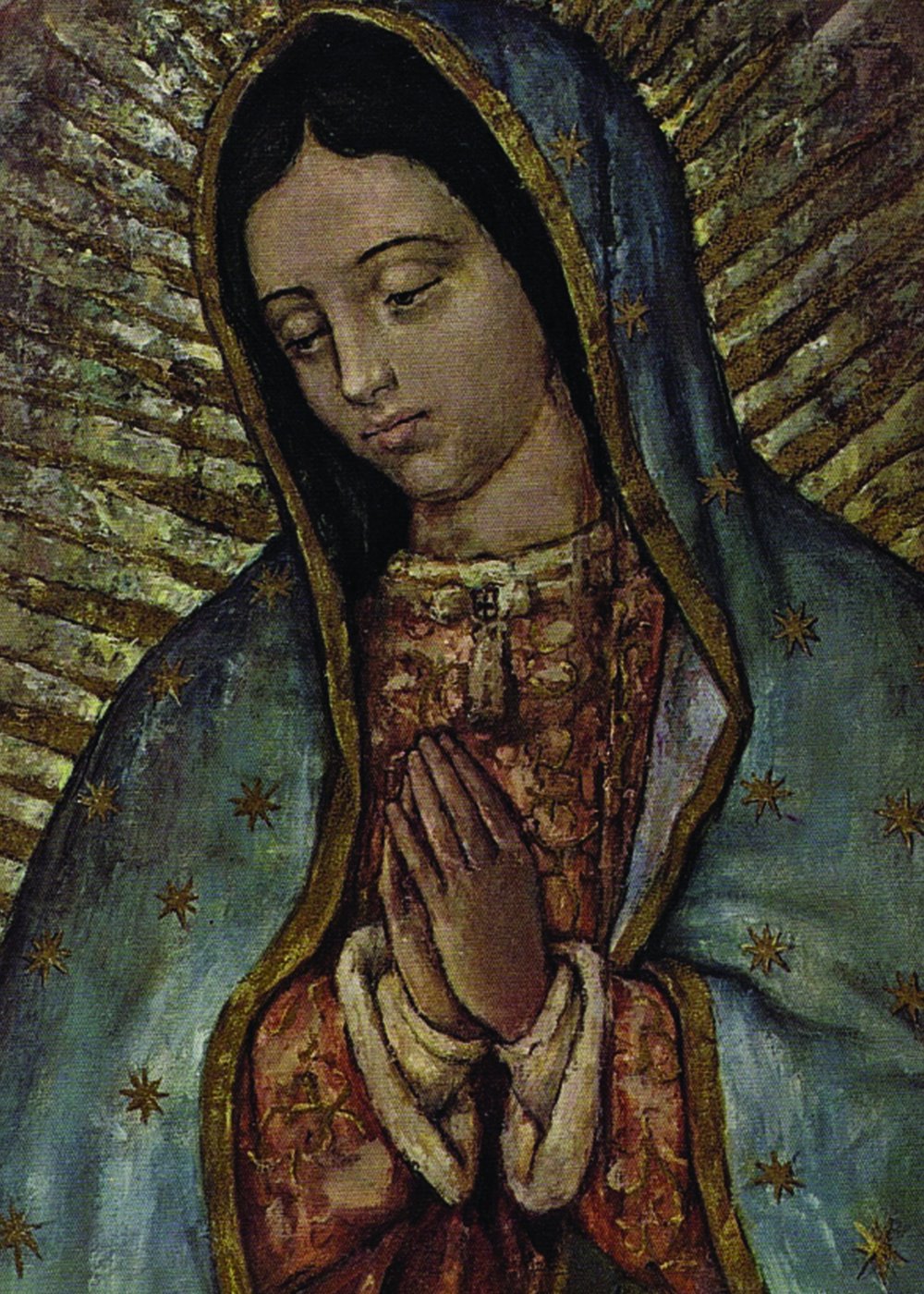 Indians from all over the Americas in the millions came to see the picture, and miracles occurred everyday. What did the Indians see? They saw an Indian Lady on that Tilma blocking out their sun god, standing on their moon and snake gods, and praying to a God more powerful than Her.
For the first time, Indians and Spaniards hugged each other. Conversions to the faith happened so fast that some priests baptized more than 6000 people in a single day. At one convent alone, two priests baptized 14,200 Indians in five days. Indian women replaced their mini-skirts with clothes similar to Our Lady. Ten million Indians were baptized in one year. - Rick Salbato [https://www.thecatholicmonitor.com/2020/07/might-gods-answer-to-francis-new-luther.html]
Last year I wrote that Fr. Hugo Valdermar Romero, former spokesman for Cardinal Rivera Carrera who was the Archbishop of Mexico City from 1995 to 2017, burned replicated cardboard images of the Francis Vatican immodest naked Pachamama idols.

In a statement translated by Bishop Rene Gracida on his website abyssus.org, Romero explained why he burned the "satanic [Pachamama] idols":

"[W]e, as, a protest and as a sign of reparation, burn this satanic idol of the Pachamama."

In 2016, Francis attacked the pro-life and pro-family conservative Cardinal Rivera, whose spokesman at the time was Romero, and the Cardinal's Archdiocese of Mexico City newspaper responded saying Francis "received 'bad advice'" according to Wikipedia.

Cardinal Rivera is the backbone of conservative Pope Benedict XVI Catholicism in Mexico. It is very probable that Fr. Romero has the backing of Rivera in rebuking the idolatry of the Francis Vatican.

Under the leadership of Cardinal Rivera over 80 percent of Mexico's population remained Catholic unlike the destruction of the Catholic faith in Argentina and other Latin American liberal countries influenced by the Francis liberal agenda.

Cardinal Rivera is known to be one of the strongest defenders of Our Lady of Guadalupe in Mexico.

It appears that Our Lady of Guadalupe and her defenders in Mexico are ready to go to war with the Pachamama idol worshipping Francis Vatican.

Francis may have a real Mexican Catholic Cristeros war on his hands which could spread to the rest of Latin America.

Mexicans will never allow Francis to replace Our Lady of Guadalupe with his Vatican Pachamama idols!

Viva Cristo Rey!

Viva Nuestra Senora de Guadalupe!

The war appears to now be:

Our Lady of Guadalupe vs. Francis's Pachamama idols.
Today, Fr. David Nix wrote of the pro-life significant of Our Lady of Guadalupe:
On the other hand, perhaps some modern Americans and Europeans really do believe somehow that children conceived in rape or incest have less rights. Or, perhaps they believe—in so many words—that a raped mother's grief outweighs the weight of an impending sin of child-murder. Every person's beliefs on this topic are obviously different from the next person. But for those who really do hold that children conceived in rape or incest somehow have less rights than "wanted children" I am linking a video made my a friend. I decided that today, the Feast of Our Lady of Guadalupe, would be a perfect day to post this. Why? Because God sending Our Lady of Guadalupe to St. Juan Diego in the 16th century (to what is now Mexico City) was the miracle needed to end one of the greatest genocides in the Western Hemisphere up to that point: The Aztec slaughter of countless people from neighboring nations. Yes, the miracle of Mary in Mexico City 500 years ago was truly instrumental in ending a genocide. We very much need a similar miracle to end the greatest holocaust in the history of the world: legalized abortion in hundreds of countries now having taken the lives of over 1,700,000,000 in just surgical abortions alone (not including chemical abortions which are probably 10x that.) [https://padreperegrino.org/2021/12/exceptions-to-being-pro-life/]
Might Francis's Pachamama immodest naked idol be an idol of abortion?
The great pro-life leader Steven W. Mosher shows it a "child sacrifice" idol and is surely an idol in his post "Not even Pope Francis can deny the Pachamama is a pagan idol":
As an anthropologist, I recognized the statue of a naked and very pregnant woman that was brought into the Vatican. Similar idols were worshiped in the fertility cults of many primitive cultures around the world and still are in the recesses of the Amazon. Not a few such cults demanded human sacrifice as the price of their favors. In the Incan version of the South American Pachamama cult, child sacrifice was practiced.
Some in the Vatican at first claimed that the statues represented Our Lady of the Amazon. This interpretation the Vatican press office was at pains to refute. It repeatedly — and correctly — denied any connection between the Queen of Heaven and the pagan goddess of Mother Earth that the statue represents...
... Now that even Pope Francis himself — who is from South America and has visited the Amazon — has identified the statue as a "Pachamama," there can be no doubt about "her" identity. Even in the modern versions of the cult found in Peru, Pachamama is conceived of as what one anthropologist called "a non-human sacred/social person with whom a relationship of reciprocity must be maintained."
In other words, Pachamama is not just a symbolic representation of Mother Earth, but a pagan deity that one must be careful to propitiate, not anger...
... The pope's close friend, Father Antonio Spadaro, put it this way: "An authentically Catholic response must be given to the request of the Amazon communities to adapt the liturgy by valuing the[ir] original cosmo-vision, traditions, symbols, and rites that include transcendent, community and ecological dimensions."
Well, it turns out that one of the chief ways that "the Amazon communities" express their "cosmo-vision" is by worshiping a pagan deity called Pachamama, to whom they sacrifice animals and, perhaps still, in the remote reaches of the rainforest, the occasional child. [https://www.pop.org/not-even-pope-francis-can-deny-the-pachamama-is-a-pagan-idol/]
Pray an Our Father now for reparation for the sins committed because of Francis's Amoris Laetitia.