China's "Ponzi Scheme" Titanic Economy, the Chinese/Russian Warship "Unprecedented Provocation" & Francis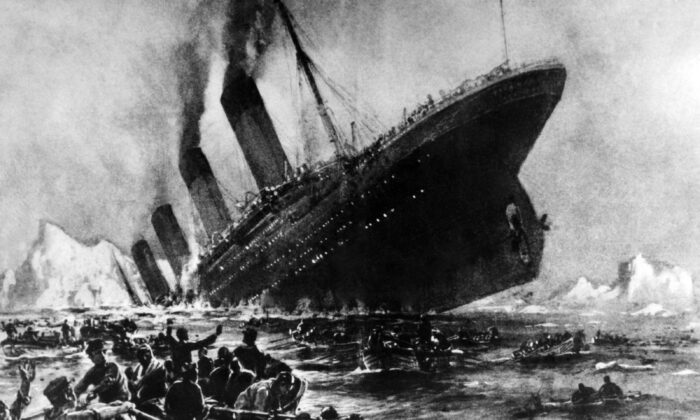 Most Americans don't seem to know that the Communist controlled economy of China appears to be a "ponzi scheme" sinking ship like the Titanic as the financial website Real Money revealed:
As James Rickards writes:
This actual crisis management plan is the worst possible playbook. Why? Any response to a financial crisis has to be centralized so that decisions about how to deploy limited resources can be made rapidly. Some lenders must be saved, some should be allowed to fail. Equity holders should be wiped out. Foreign investors in dollar-denominated debt of Evergrande will be left to fend for themselves and possibly seek relief in their home countries.
The point is these types of decisions cannot be made by "local governments" as proposed by the Chinese. The government plan is not a serious effort to truncate a financial crisis. It seems designed more to suppress social unrest and perhaps arrest "troublemakers." Western analysts don't understand this dynamic because they view events through the lens of Wall Street and Washington norms.
But the Communist Party of China does not care if Chinese oligarchs or investors in BlackRock ETFs lose money. That suits them fine. They're communists.
China's Economy Is Basically a Debt-Driven Ponzi Scheme
In essence, the contagion in the all important real estate market in China has revealed that China's globalist dream has crashed and burned.
That contagion, the dumping of unwanted real estate, has started, and China's property market and leveraged economy is toast.
That contagion and damage will spill over outside of China.
More from Rickards:
Up to half of China's investment is a complete waste. It does produce jobs and utilize inputs like cement, steel, copper and glass. But the finished product, whether a city, train station or sports arena, is often a white elephant that will remain unused. The Chinese landscape is littered with "ghost cities" that have resulted from China's wasted investment and flawed development model. And as I've explained before, that has serious implications for China's leadership...
The Chinese Communist Party Now Faces an Existential Threat to Its Power
With China's economy now in an irreversible decline - it, too, like the U.S., will be plagued by "stagflation" - jobs losses and inflation.
China's leadership is imperiled and the nascent signs of social unrest and disorder has begun to appear - perhaps on the order or worse than the Tiananmen Square protests.
In the extreme, President Xi could quickly lose his "Mandate of Heaven" - a term that describes the intangible goodwill and popular support needed by Chinese emperors to rule over thousands of years. [https://realmoney.thestreet.com/investing/doug-kass-is-china-the-market-s-black-swan--15791343]
The international strategic website Foreign Policy explained what world powers with collapsing economies do:
China Is a Declining Power—and That's the Problem
The United States needs to prepare for a major war, not because its rival is rising but because of the opposite.
Why do great powers fight great wars? The conventional answer is a story of rising challengers and declining hegemons. An ascendant power, which chafes at the rules of the existing order, gains ground on an established power—the country that made those rules. Tensions multiply; tests of strength ensue. The outcome is a spiral of fear and hostility leading, almost inevitably, to conflict. "The growth of the power of Athens, and the alarm which this inspired in Sparta, made war inevitable," the ancient historian Thucydides wrote—a truism now invoked, ad nauseum, in explaining the U.S.-China rivalry.
The idea of a Thucydides Trap, popularized by Harvard political scientist Graham Allison, holds that the danger of war will skyrocket as a surging China overtakes a sagging America. Even Chinese President Xi Jinping has endorsed the concept arguing Washington must make room for Beijing. As tensions between the United States and China escalate, the belief that the fundamental cause of friction is a looming "power transition"—the replacement of one hegemon by another—has become canonical.
The only problem with this familiar formula is that it's wrong.
The Thucydides Trap doesn't really explain what caused the Peloponnesian War. It doesn't capture the dynamics that have often driven revisionist powers—whether that is Germany in 1914 or Japan in 1941—to start some of history's most devastating conflicts. And it doesn't explain why war is a very real possibility in U.S.-China relations today because it fundamentally misdiagnoses where China now finds itself on its arc of development—the point at which its relative power is peaking and will soon start to fade...
... It is unsurprising, therefore, that China has also developed the ambitions of a superpower: Xi has more or less announced that Beijing desires to assert its sovereignty over Taiwan, the South China Sea, and other disputed areas, becoming Asia's preeminent power and challenging the United States for global leadership. Yet if China's geopolitical window of opportunity is real, its future is already starting to look quite grim because it is quickly losing the advantages that propelled its rapid growth. [https://foreignpolicy.com/2021/09/24/china-great-power-united-states/]
Is there evidence that China is testing the waters for possible war?

The Nikkei Asia website seems to show that the recent Chinese and Russian warship "unprecedented provocation" is being taken seriously by Japan:
China, Russia ships needle through Japan's southern chokepoint
In unprecedented provocation, two navies circle nation in less than a week
TOKYO -- Four days after passing through a maritime chokepoint in northern Japan, 10 Chinese and Russian warships have now sailed through a southern chokepoint, in effect circumnavigating the nation in an unprecedented provocative move.
In a statement, Japanese Defense Ministry's Joint Staff said 10 vessels passed westward through the Osumi Strait between Osumi Peninsula and Tanegashima Island, both in the southern prefecture of Kagoshima, on Friday. Tokyo said this was the first time Chinese and Russian ships have jointly sailed through the Osumi Strait...
... The Japanese side monitored the Chinese and Russian ships by deploying Asagiri-class destroyer JS
Yamagiri from Yokosuka, Kanagwa Prefecture, and Abukuma-class destroyer escort ship JS Tone from Kure, Hiroshima Prefecture. A P-1 maritime patrol plane was sent from Kanoya, Kagoshima.
A jet fighter was scrambled to respond to the Chinese helicopter movement. [https://asia.nikkei.com/Politics/International-relations/China-Russia-ships-needle-through-Japan-s-southern-chokepoint]

If all this is true, it appears that the Francis Vatican alliance with Marxist Chinese regime may be a "sinking boat" called the "Titanic":
Thomist scholar Dr. Taylor Marshall who heads the New Saint Thomas Institute in his YouTube channel said the Francis Vatican's biggest concern in 2020 will be "money" because their money sources such as in the United States and other places are drying up.

Marshall stated that the Francis deal with China which betrayed the Chinese Catholic underground Church is about "money":

"They are worried they are going to lose all the money... [their] striking the deal with China is a way to get money from China."
(Taylor Marshall.com, "When Pope Francis Slapped Woman's Hand: Predictions," 49:18- 49:50)

Most international and Vatican observers appear oblivious to the crumbling of Francis's apparent Vatican geopolitical Socialist alliances and that those alliances are financially supported by China and if Marshall is right the Vatican wants that same financial support.

Any one who has read Francis's only book "Dialogos" with it's praise of the Cuban Revolution and looked closely at some of his Vatican political maneuvers, such as the China/Vatican deal, the Obama/Cuba alliance, the Vatican/Evo Morales alliance and the Vatican protection of the Cuban controlled dictatorship of Venezuela (by the continued call for "dialogue"), can speculate that his probable political hopes are crumbling.

His apparent main political vision of the spreading of China's puppet Cuba's influence throughout Latin America as a so-called counterbalance to the United States' influence in the region now appears to be falling apart.

Cuba's main economic support after the USSR economy collapsed was Venezuela. After Venezuela's failed state economy collapsed then Cuba's economy was only held together by China stepping in.

China's puppet Cuba's Latin American influence is now dying with Bolivia kicking out Cuban and Venezuelan Cuban operatives and Venezuela's dictatorship nearing it's end.

It may be possible that Francis agreed to the Vatican/China deal which betrayed the Chinese Catholic underground Church because without China's economic assistance Cuba's economy would resumable the Venezuelan starvation economy, but maybe more importantly "to get money from China" as Marshall said.

Now, with reports that the Hong Kong freedom protests have spread to the most important province in China - Guangdong - in terms of population and economic power it appears that the Chinese Communist totalitarian regime is in a dilemma.

If they crack down on the powerhouse economies of Hong Kong and Guangdong the already downward spiral of the Chinese economy may begin a collapse of the whole country. That appears to be the only reason they are not destroying the Hong Kong freedom fighters as they murdered the Tiananmen Square freedom fighters in 1989.

Anyone who has studied the murderous history of the totalitarian regime of China is hard pressed to not call that dictatorship: evil.

It is a very sad commentary on the current moral situation of the Catholic Church to observe the Francis Vatican's apparent collaboration with China is possibly "a way to get money from China."

If it is true that Francis's Vatican has an alliance and is financially supported by the Chinese regime it appears that if the Chinese owned Epoch Times is correct then Francis may have to go down with a "sinking boat" called the "Titanic":

When China's economy was close to falling off a cliff, Western countries bailed out the CCP. With the opening of trade and the U.S. market to China, China privatized a lot of land and companies, but CCP officials and their relatives got the lion's share of opportunities.

The CCP used the ideals of socialism to rob people of their property, then privatized it into their own hands.

Among top officials, there's a secret plan for a "sinking boat." They're insiders and know better than the majority of Chinese how corrupt the system is and that it's not sustainable. These CCP elites don't take China as their home country. They see the country as a place temporarily held by them where they can grab money and prepare to leave.

That's why they're willing to kill the goose that lays the golden eggs, just to get a few eggs right now, as in Hong Kong. It's the same model that's applied to the entire country. China is only a temporary hunting ground for grabbing money.

In 2012, the following internal data leaked out: 90 percent of central party committee members had relatives and children who had emigrated to foreign countries; 85 percent of top officials were ready to abandon their positions and escape the country.

That's why China doesn't allow any officials above mid-level local positions to hold their passports. The higher the position, the more the CCP officials know that the CCP crisis is reaching a boiling point. They've moved their assets out, prepared to run away, and are even prepared in an emergency to destroy the central database to cover their tracks.

That's part of their plan for the "sinking boat." That's why they use state money to corrupt international officials, make friends with many countries, and generously spread money to some foreign lands while giving very little to their own people.

Taiwanese economist Wu Jialong said that a Taiwanese businessman told him that Jia Qinglin, the former chairman of the Chinese People's Political Consultative Conference, "hired a private jet loaded with gold, dollars, euros, and more, and flew to Cambodia."

One can see why the CCP cares even for small countries.

The majority of people in China don't know it's a sinking boat. They enjoy as much as they can while ignoring how the CCP corrupts the morality of society, just like the drinking, singing passengers on the sinking Titanic.

What top CCP officials are most afraid of is Western countries' sanctions of individuals.
[ https://www.theepochtimes.com/the-chinese-communist-party-is-sinking-like-the-titanic-but-officials-have-a-plan_3382776.html]
Pray an Our Father now for reparation for the sins committed because of Francis's Amoris Laetitia.