Flashback: For "'Francis-Loving' Propaganda" Trads "It Appears that Canon 212 Readers are the New "Deplorables"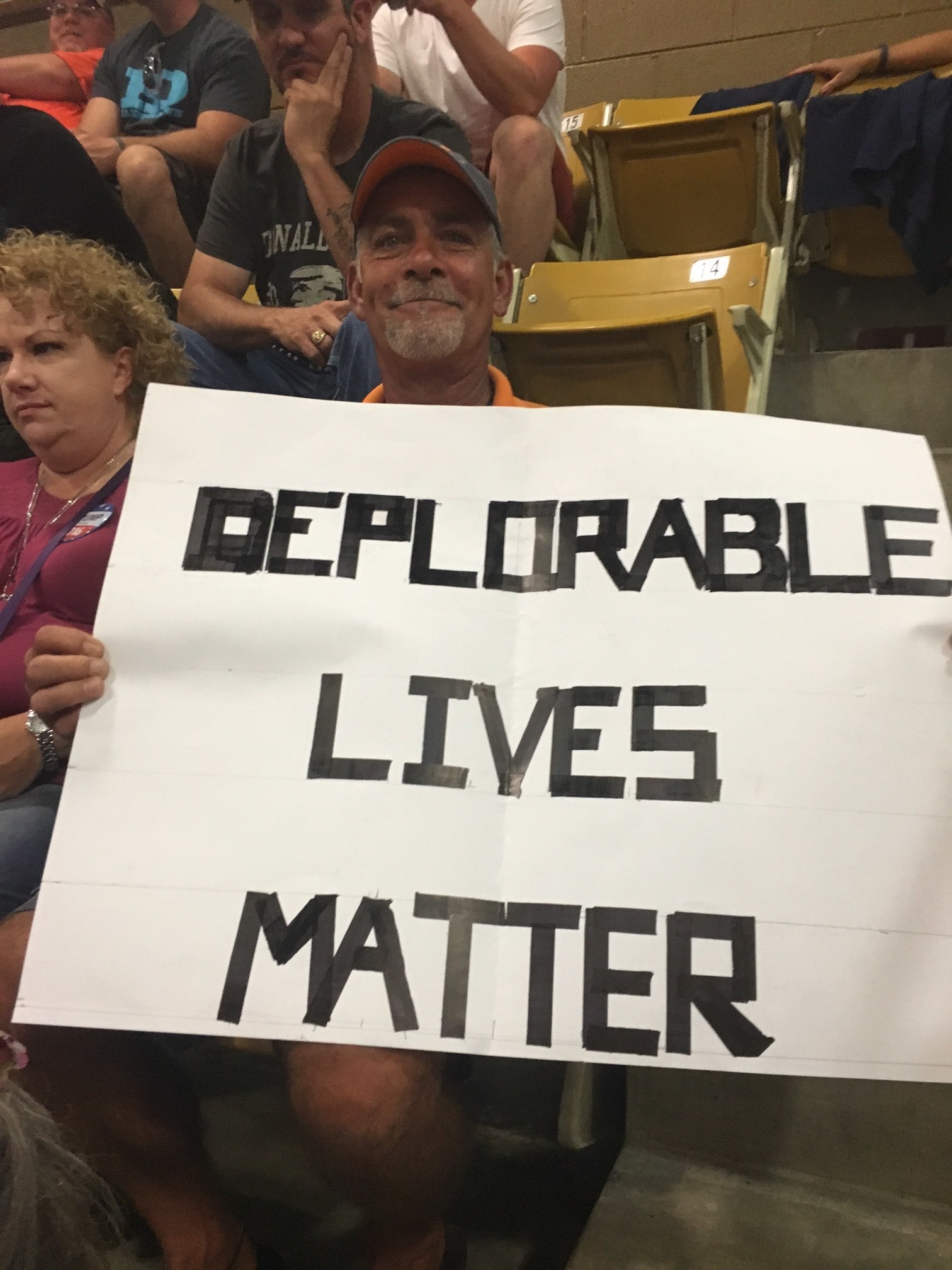 For Virtue Signaling Banning the Mass Francis Trads is Frank Walker the New Trump?
British conservative Daniel Hannan said:
"Virtue signaling is competitive. When all your friends are anti-Trump, you have to go further."

After President Donald Trump took office the liberal virtue signaling was very competitive with them, calling him every name in the book with death threats as well as 12,000 Tweets for his assassination and the famous Kathy Griffin's beheading Trump photo.

After Canon 212 publisher Frank Walker made a headline which he later admitted he made a mistake on it appears that banning the Mass Francis traditionalists decided to join in the liberal-like behavior in a frenzy of virtue signaling against him.

The Francis trads like the liberals are very competitive in their virtue signaling. Remember, when all your friends are anti-Walker, you have to go farther.

The banning the Mass Francis traditionalists have issued numerous name-calling Tweets against Walker and I am wondering when one of them is going to have a beheading Walker photo.

When the leader of the Francis trads Steve Skojec continually insulted and finally mocked Ann Barnhardt's looks, the non-Francis traditionalists said Skojec was a wimpy misogynistic coward and forgot about it. There was no virtue signaling competition.

Getting back to the liberals virtue signaling against Trump, it didn't stop with the president, but included his supporters.

The leader of liberal virtue signaling herself Hilary Clinton called Trump supporters "deplorables."

The banning the Mass Francis trads led by the leader of virtue signaling himself Skojec are becoming Hilary Clinton-like calling Canon 212 readers "stupid" and "that miserable crowd."

It appears that Canon 212 readers are the new "deplorables."

It seems that almost all the virtue signaling against Walker is coming from so-called traditionalists who agree with the Francis bishops banning of the Mass.

Might a lot of the name-calling effeminate virtue signaling be about destroying Walker's movement in Canon 212 against banning the Mass as the liberals virtue signaling is about destroying Trump's attempt to restore America?

Are the banning the Mass Francis trads who support martial law, now, that the Trump White House is saying they are not considering a "nationwide lockdown" going to become never Trumpers and vote for Joe Biden?

Are the banning the Mass Francis traditionalists the new seamless garment so-called "pro-lifers" who think stopping Coronavirus is more important than the Mass despite the fact that the country most successful in defeating the virus, Taiwan, still allows Mass?

Pray an Our Father now for the restoration of the Mass and the Church as well as for the Triumph of the Kingdom of the Sacred Heart of Jesus and the Immaculate Heart of Mary.

Also, pray an Our Father now for President Trump to receive the grace to do God's will in the present crisis.
Stop for a moment of silence, ask Jesus Christ what He wants you to do now and next. In this silence remember God, Father, Son and Holy Ghost - Three Divine Persons yet One God, has an ordered universe where you can know truth and falsehood as well as never forget that He wants you to have eternal happiness with Him as his son or daughter by grace. Make this a practice. By doing this you are doing more good than reading anything here or anywhere else on the Internet.
Francis Notes:
- Doctor of the Church St. Francis de Sales totally confirmed beyond any doubt the possibility of a heretical pope and what must be done by the Church in such a situation:

"[T]he Pope... WHEN he is EXPLICITLY a heretic, he falls ipso facto from his dignity and out of the Church, and the Church MUST either deprive him, or, as some say, declare him deprived, of his Apostolic See."
(The Catholic Controversy, by St. Francis de Sales, Pages 305-306)

Saint Robert Bellarmine, also, said "the Pope heretic is not deposed ipso facto, but must be declared deposed by the Church."
[https://archive.org/stream/SilveiraImplicationsOfNewMissaeAndHereticPopes/Silveira%20Implications%20of%20New%20Missae%20and%20Heretic%20Popes_djvu.txt]
- "If Francis is a Heretic, What should Canonically happen to him?": http://www.thecatholicmonitor.com/2020/12/if-francis-is-heretic-what-should.html
- "Could Francis be a Antipope even though the Majority of Cardinals claim he is Pope?": http://www.thecatholicmonitor.com/2019/03/could-francis-be-antipope-even-though.html
- LifeSiteNews, "Confusion explodes as Pope Francis throws magisterial weight behind communion for adulterers," December 4, 2017:

The AAS guidelines explicitly allows "sexually active adulterous couples facing 'complex circumstances' to 'access the sacraments of Reconciliation and the Eucharist.'"

- On February 2018, in Rorate Caeli, Catholic theologian Dr. John Lamont:

"The AAS statement... establishes that Pope Francis in Amoris Laetitia has affirmed propositions that are heretical in the strict sense."

- On December 2, 2017, Bishop Rene Gracida:

"Francis' heterodoxy is now official. He has published his letter to the Argentina bishops in Acta Apostlica Series making those letters magisterial documents."

Pray an Our Father now for the restoration of the Church by the bishops by the grace of God.
Election Notes:
- Intel Cryptanalyst-Mathematician on Biden Steal: "212Million Registered Voters & 66.2% Voting,140.344 M Voted...Trump got 74 M, that leaves only 66.344 M for Biden" [http://catholicmonitor.blogspot.com/2020/12/intel-cryptanalyst-mathematician-on.html?m=1]
- Will US be Venezuela?: Ex-CIA Official told Epoch Times "Chávez started to Focus on [Smartmatic] Voting Machines to Ensure Victory as early as 2003": http://catholicmonitor.blogspot.com/2020/12/will-us-be-venezuela-ex-cia-official.html
Pray an Our Father now for the grace to know God's Will and to do it.